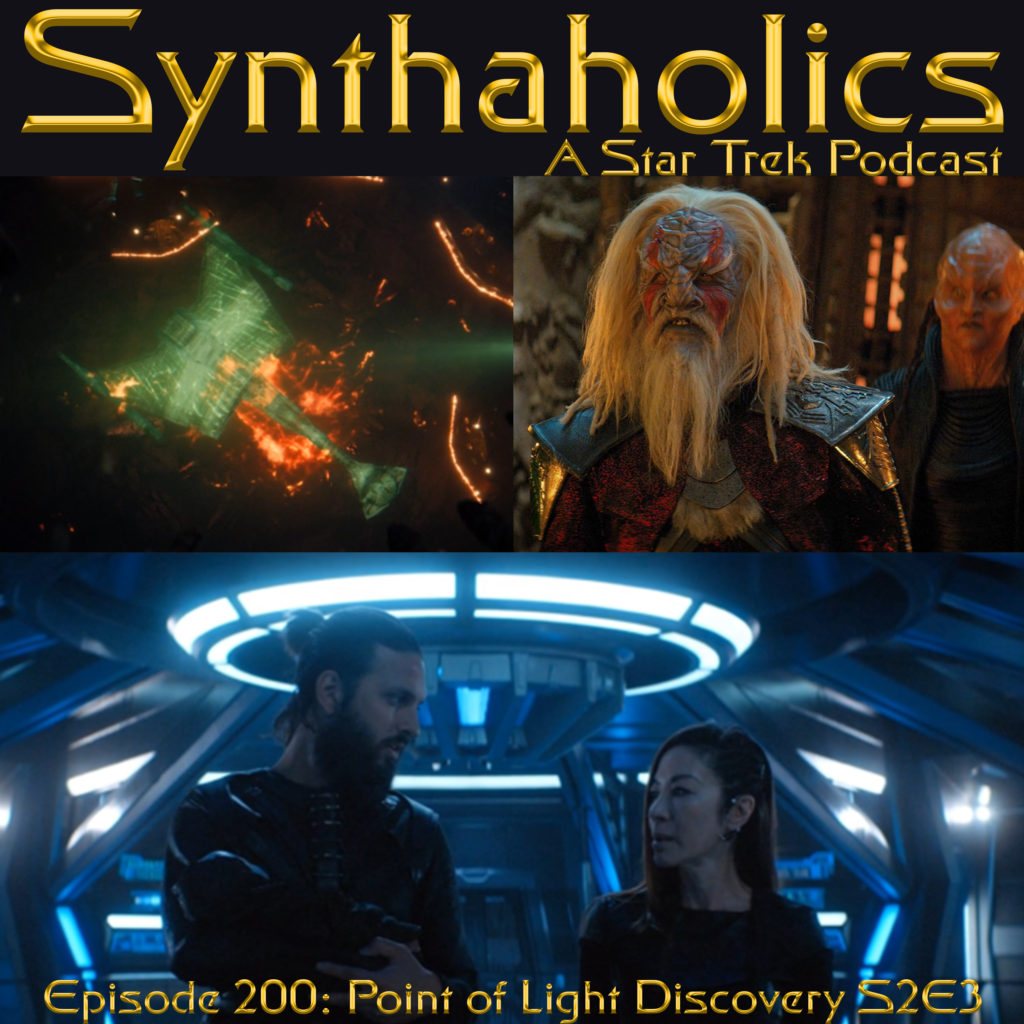 Episode 200: Point of Light Discovery S2E3
Phillip Malerich joins Holly, Aaron, and David to discuss Star Trek Discovery episode three, Point of Light. Before we get into full spoilers for Point of Light we discuss the Anson Mount Tweet about he and Ethan Peck are looking for work. We mention our theory that Discovery will have revolving captains each season. Even if that isn't the case. Discovery is between seasons and the actors could use some work between seasons. It's our 200th episode and we go long this week's episode with Ash/Voq, the klingons, Georgiou and Section 31 all making a comeback this week. We hope this week isn't a one off and that it really is setting up the remainder of the season. Discovery season two continues to delight with call back to Star Trek 6 and to The Next Generation. Break out the bloodwine it's time for your weekly shot of Star Trek!

Our music is provided by! http://warp11.com/
you can follow them at! https://twitter.com/warp11
If you would like to donate to us to help keep the show going please look at our Patreon
https://www.patreon.com/Synthaholics?ty=h
If you are a fan of Guy Davis and his art and comics you can support him at his Patreon
https://www.patreon.com/GSDavisArt?ty=h
Take a look at Holly's Website and blog
https://hollymichellev.wixsite.com/voiceover
Join the Facebook conversation!
https://www.facebook.com/groups/Synthaholics/
Email us
Subscribe to our YouTube Channel
https://www.youtube.com/synthaholics
Follow us on Twitter
Or Tumblr
http://synthaholics.tumblr.com/
Subscribe to us on iTunes
https://itunes.apple.com/us/podcast/synthaholics-star-trek-podcast/id981239466?mt=2
Subscribe to us on Google Play
https://play.google.com/music/listen?u=0#/ps/Immzfeujybtpjrz54khq3luqj3m
Subscribe to us on iHeartRadio
https://www.iheart.com/show/263-synthaholics-a-star/
Or subscribe to us on Stitcher Radio
http://www.stitcher.com/podcast/david-duncan/synthaholics?refid=stpr