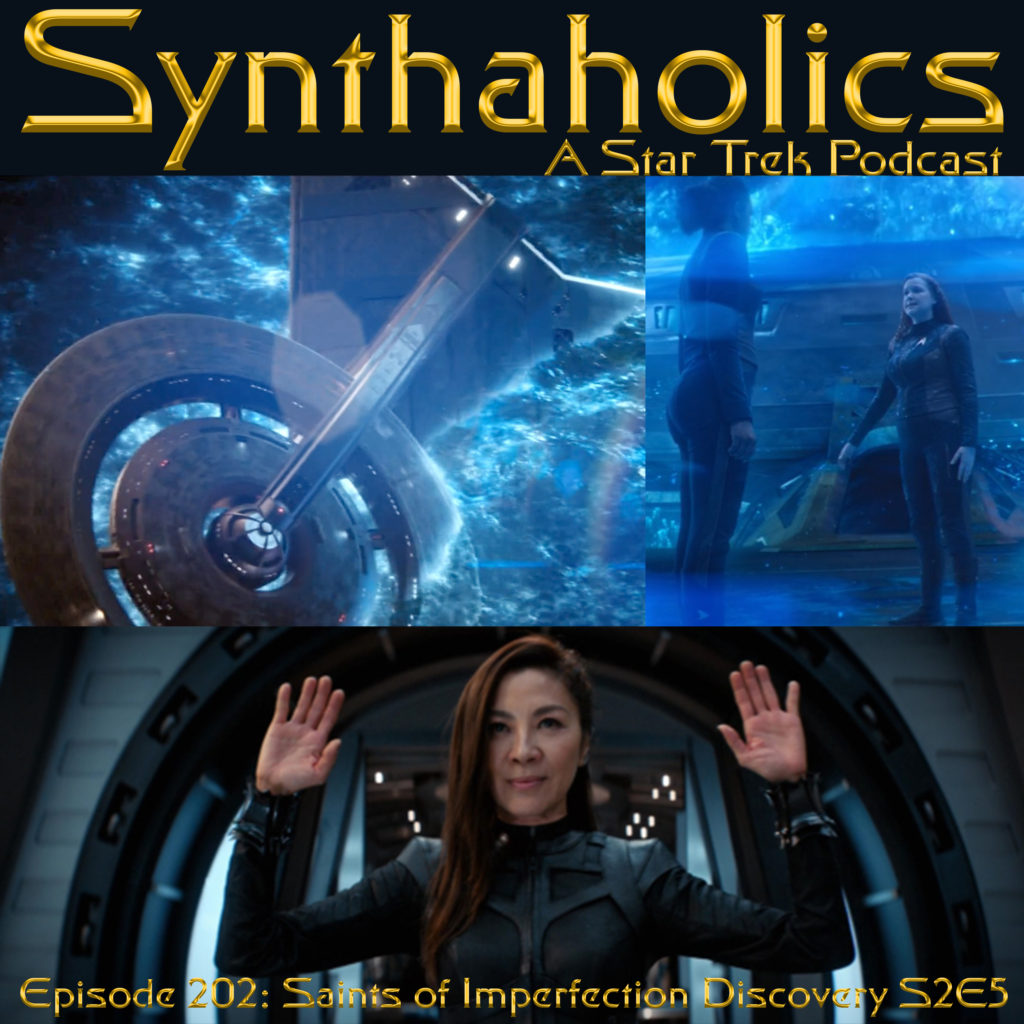 Episode 202: Saints of Imperfection Discovery S2E5
This week our friend Joe DePinto joins Holly, Aaron, and David to discuss Saints of Imperfection, the fifth episode of the second season of Star Trek Discovery. Beware this episode contains full spoilers for Saints of Imperfection. Before we get started on talking about the latest Star Trek Discovery episode we respond to the news that a Star Trek Animated Series is being developed for children on Nickelodeon. We also recall how some of us couldn't watch certain shows on Nickelodeon or were prohibited from watching the channel at all! This week we still don't get any Spock but we do get Section 31 and Admiral Cornwell makes her first appearance in season two this week. Time to pour yourself a drink from your stash that isn't as secret as you thought it would be. It's time for you weekly shot of Star Trek!

Our Guest's Links
Our music is provided by! http://warp11.com/
you can follow them at! https://twitter.com/warp11
If you would like to donate to us to help keep the show going please look at our Patreon
https://www.patreon.com/Synthaholics?ty=h
If you are a fan of Guy Davis and his art and comics you can support him at his Patreon
https://www.patreon.com/GSDavisArt?ty=h
Take a look at Holly's Website and blog
https://hollymichellev.wixsite.com/voiceover
Join the Facebook conversation!
https://www.facebook.com/groups/Synthaholics/
Email us
Subscribe to our YouTube Channel
https://www.youtube.com/synthaholics
Follow us on Twitter
Or Tumblr
http://synthaholics.tumblr.com/
Subscribe to us on iTunes
https://itunes.apple.com/us/podcast/synthaholics-star-trek-podcast/id981239466?mt=2
Subscribe to us on Google Play
https://play.google.com/music/listen?u=0#/ps/Immzfeujybtpjrz54khq3luqj3m
Subscribe to us on iHeartRadio
https://www.iheart.com/show/263-synthaholics-a-star/
Or subscribe to us on Stitcher Radio
http://www.stitcher.com/podcast/david-duncan/synthaholics?refid=stpr