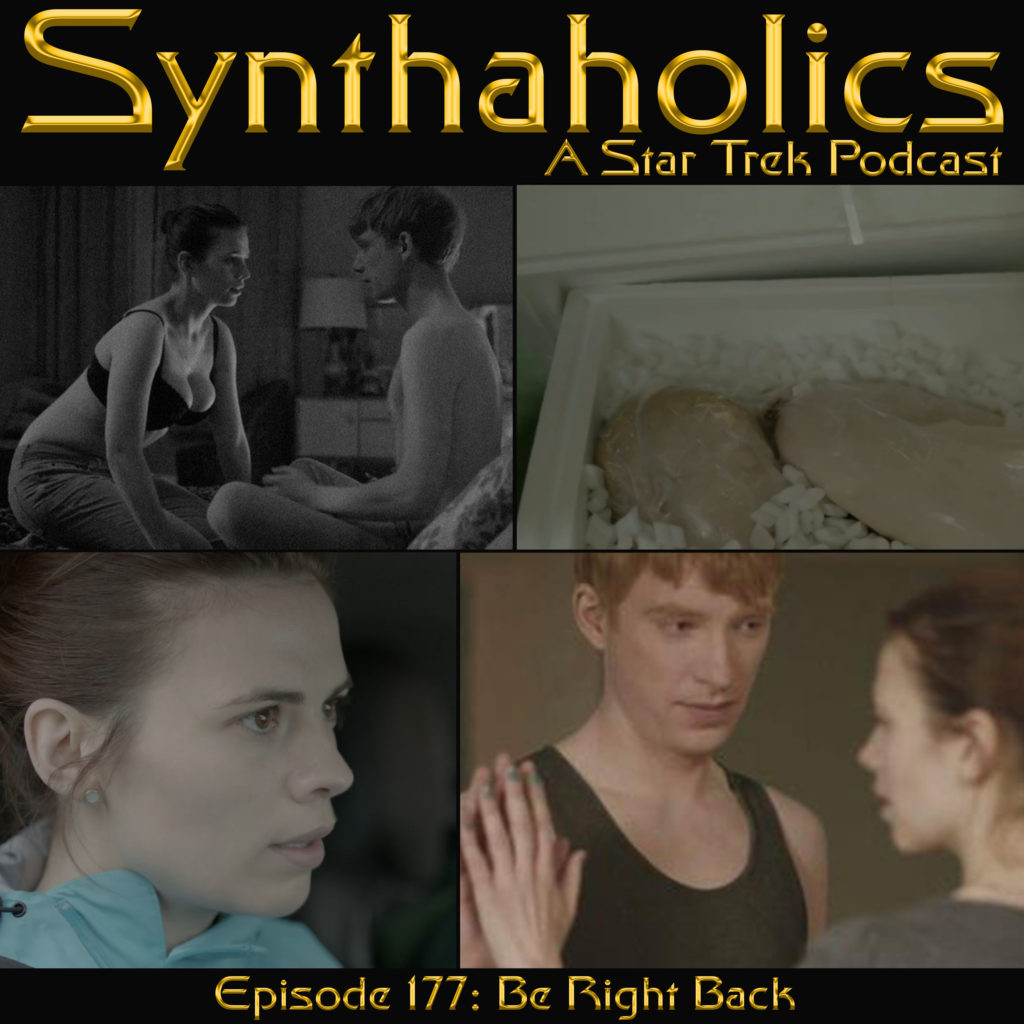 Episode 177: Be Right Back
Holly Michelle is back this week to talk with Aaron and David about the Black Mirror Episode Be Right Back. Now don't turn to a different podcast just yet! We very specifically picked this episode because if you listened to last week's episode this episode fits in thematically to the discussion we had last week!
Be Right Back deals with grief and what that does to a person. It also confronts what if our personalities were put into a robot and will that be enough? After the episode recap we talk more about if we would want to live on after death so maybe our families will remember us and what the future may looks like to our descendants. We hope you held on tightly do your drink as we made that hard left turn into Black Mirror! At the top of the show we discuss the news of Patrick Stewart reprising his role as Jean-Luc Picard.
Our music is provided by! http://warp11.com/
you can follow them at! https://twitter.com/warp11
If you would like to donate to us to help keep the show going please look at our Patreon
https://www.patreon.com/Synthaholics?ty=h
If you are a fan of Guy Davis and his art and comics you can support him at his Patreon
https://www.patreon.com/GSDavisArt?ty=h
Join the Facebook conversation!
https://www.facebook.com/groups/Synthaholics/
Email us
synthaholics@yahoo.com
Subscribe to our YouTube Channel
https://www.youtube.com/synthaholics
Follow us on Twitter
https://twitter.com/SynthaholicDuo
Or Tumblr
http://synthaholics.tumblr.com/
Subscribe to us on iTunes
https://itunes.apple.com/us/podcast/synthaholics-star-trek-podcast/id981239466?mt=2
Subscribe to us on Google Play
https://play.google.com/music/listen?u=0#/ps/Immzfeujybtpjrz54khq3luqj3m
Subscribe to us on iHeartRadio
https://www.iheart.com/show/263-synthaholics-a-star/
Or subscribe to us on Stitcher Radio
http://www.stitcher.com/podcast/david-duncan/synthaholics?refid=stpr
If you like the show please leave us a rating and review on either platform