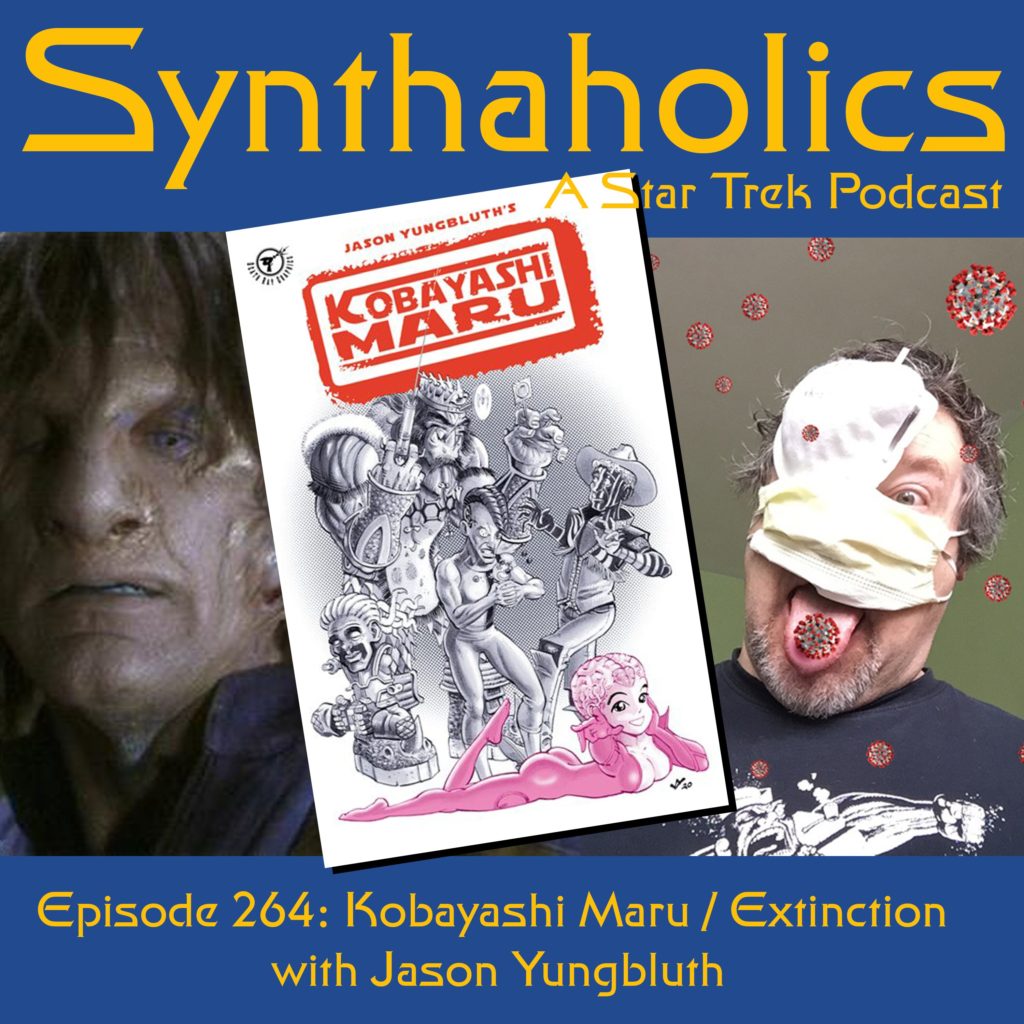 Episode 264: Kobayashi Maru Extinction with Jason Yungbluth
This week we need to apologize to our special guest Jason Yungbluth. Because was are talking about one of our least favorite episodes of Star Trek: Enterprise – "Extinction". BUT there is more! We balance off this bitter episode with the sweet discussion of Jason Yungbluth's newset comic book "Kobayashi Maru"! A comic book series set in a universe that parodies the Star Trek universe. Yungbluth is well known for his work comic book writer & artist on "Weapon Brown" (a dystopic Charlie Brown story) and "Deep Fried" (a untouchable comedy comic strip). Poor Jason has to talk about this shitty episode, but at least it is good for a few laughs. Enjoy together responsibly!
Website:
https://www.whatisdeepfried.com/
Twitter: @IAmDeathRay
instagram: @death_ray_graphics
https://www.instagram.com/death_ray_graphics/
Our music is provided by! http://warp11.com/
you can follow them at! https://twitter.com/warp11
If you would like to donate to us to help keep the show going please look at our Patreon
https://www.patreon.com/Synthaholics?ty=h
If you are a fan of Guy Davis and his art and comics you can support him at his Patreon
https://www.patreon.com/GSDavisArt?ty=h
Take a look at Holly's Website and blog
https://hollymichellev.wixsite.com/voiceover
Join the Facebook conversation!
https://www.facebook.com/groups/Synthaholics/
Email us
Subscribe to our YouTube Channel
https://www.youtube.com/synthaholics
Follow us on Twitter
Or Tumblr
http://synthaholics.tumblr.com/
Subscribe to us on iTunes
https://itunes.apple.com/us/podcast/synthaholics-star-trek-podcast/id981239466?mt=2
Subscribe to us on Google Play
https://play.google.com/music/listen?u=0#/ps/Immzfeujybtpjrz54khq3luqj3m
Subscribe to us on iHeartRadio
https://www.iheart.com/show/263-synthaholics-a-star/
Or subscribe to us on Stitcher Radio
http://www.stitcher.com/podcast/david-duncan/synthaholics?refid=stpr