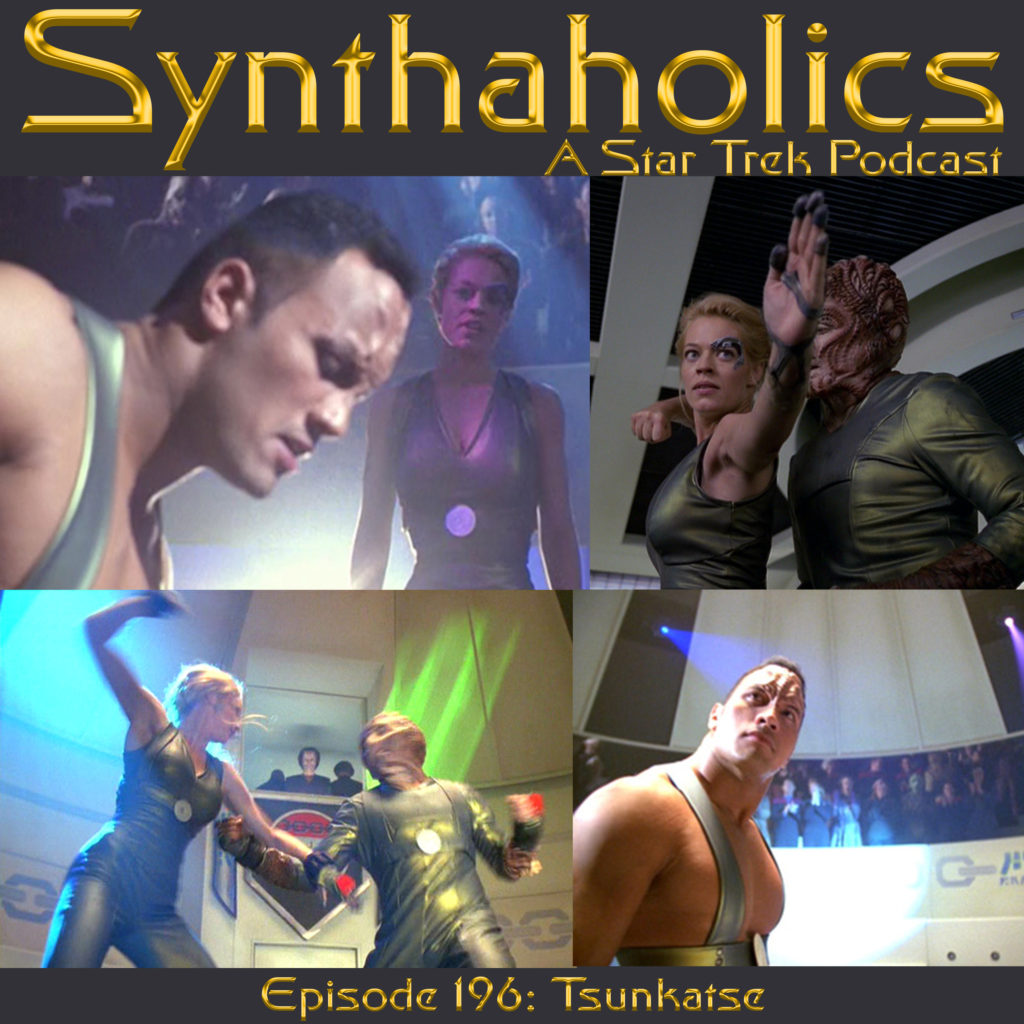 Episode 196: Tsunkatse
Happy New Year! We are back this week we have a lot to talk about. We have the newest Short Trek The Escape Artist, a listener request the Voyager episode Tsunkatse, and a listener email!
Aaron and Holly really seemed to enjoy The Escape Artist but David was excited for it but ultimately let down by the short. We all enjoyed Tsunkatse but we failed to make an Rock impressions. The Rock was not the only notable guest star, this episode also features Jeffrey Combs and J. G. Hertzler who both appear in Deep Space Nine and in Enterprise. This was a fun episode and there is just one more podcast episode before we start podcasting on Star Trek Discovery! Raid your left over New Years Eve Liquor stash it's time for your weekly shot of Star Trek.

Our music is provided by! http://warp11.com/
you can follow them at! https://twitter.com/warp11
If you would like to donate to us to help keep the show going please look at our Patreon
https://www.patreon.com/Synthaholics?ty=h
If you are a fan of Guy Davis and his art and comics you can support him at his Patreon
https://www.patreon.com/GSDavisArt?ty=h
Join the Facebook conversation!
https://www.facebook.com/groups/Synthaholics/
Email us
Subscribe to our YouTube Channel
https://www.youtube.com/synthaholics
Follow us on Twitter
Or Tumblr
http://synthaholics.tumblr.com/
Subscribe to us on iTunes
https://itunes.apple.com/us/podcast/synthaholics-star-trek-podcast/id981239466?mt=2
Subscribe to us on Google Play
https://play.google.com/music/listen?u=0#/ps/Immzfeujybtpjrz54khq3luqj3m
Subscribe to us on iHeartRadio
https://www.iheart.com/show/263-synthaholics-a-star/
Or subscribe to us on Stitcher Radio
http://www.stitcher.com/podcast/david-duncan/synthaholics?refid=stpr