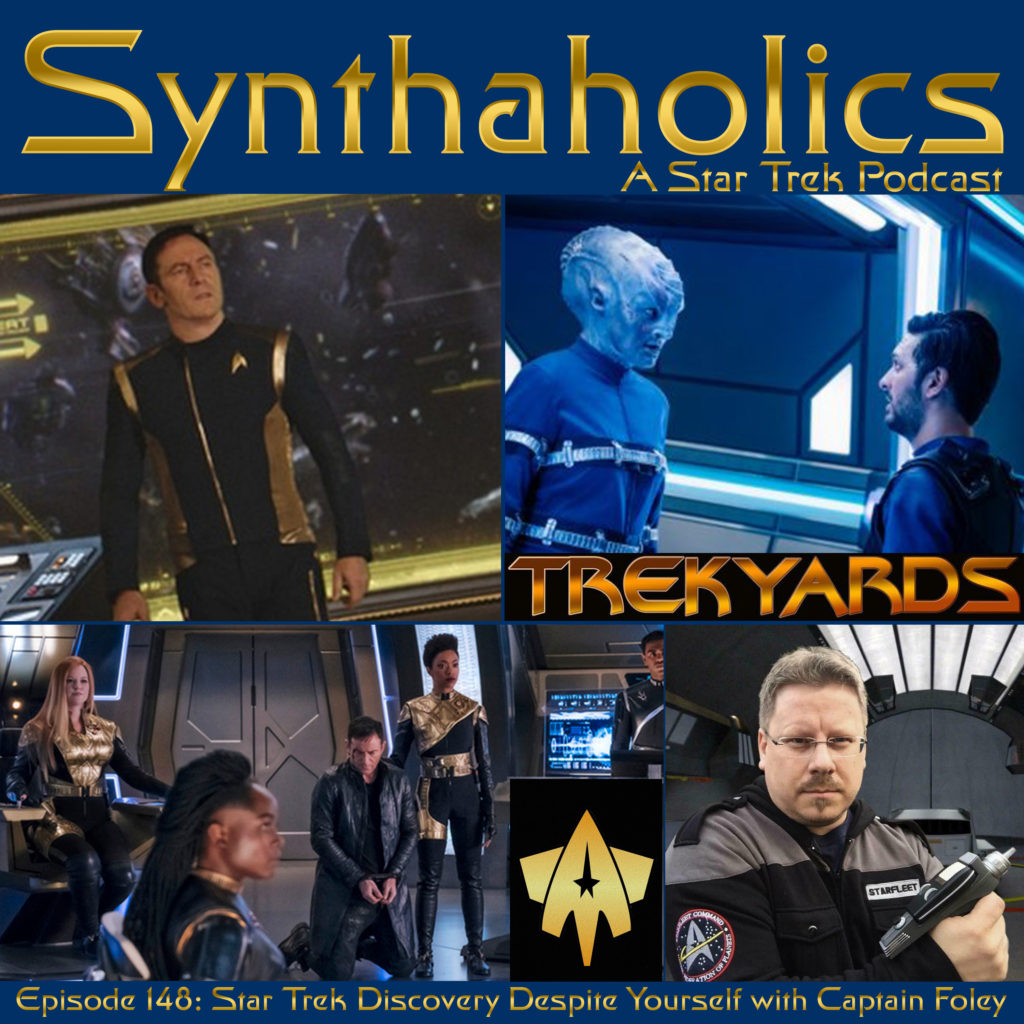 Synthaholics Episode 148: Star Trek Discovery Despite Yourself with Captain Foley
Captain Foley of Trekyards joins Aaron and David this week to discuss the latest episode Star Trek Discovery, Despite Yourself. Despite Yourself sends the crew of the USS Discovery to the Mirror Universe and things awesome. We know the wait hasn't been that long for this episode but it really feels like it.
We are so glad Captain Foley could join us for Discovery's return because we had a feeling this would be a big episode! What would your mirror universe self drink? You should pour yourself a glass of that because it's time for your weekly shot of Star Trek!
Guest Links
Please check out Captain Foley's links for Trekyards and Fleetyards on Facebook and subscribe to their YouTube channel for great Star Trek content.
https://www.facebook.com/groups/trekyards/
https://www.facebook.com/groups/fleetyards/
https://www.youtube.com/user/knightstalker666
Synthaholics Links
Our music is provided by! http://warp11.com/
you can follow them at! https://twitter.com/warp11
If you would like to donate to us to help keep the show going please look at our Patreon
https://www.patreon.com/Synthaholics?ty=h
If you are a fan of Guy Davis and his art and comics you can support him at his Patreon
https://www.patreon.com/GSDavisArt?ty=h
Join the Facebook conversation!
https://www.facebook.com/groups/Synthaholics/
Email us
synthaholics@yahoo.com
Subscribe to our YouTube Channel
https://www.youtube.com/channel/UC3–UQ1EWLrHyKVpyDubolw
Follow us on Twitter
https://twitter.com/SynthaholicDuo
Or Tumblr
http://synthaholics.tumblr.com/
Subscribe to us on iTunes
https://itunes.apple.com/us/podcast/synthaholics-star-trek-podcast/id981239466?mt=2
Subscribe to us on Google Play
https://play.google.com/music/listen?u=0#/ps/Immzfeujybtpjrz54khq3luqj3m
Subscribe to us on iHeartRadio
https://www.iheart.com/show/263-synthaholics-a-star/
Or subscribe to us on Stitcher Radio
http://www.stitcher.com/podcast/david-duncan/synthaholics?refid=stpr
If you like the show please leave us a rating and review on either platform