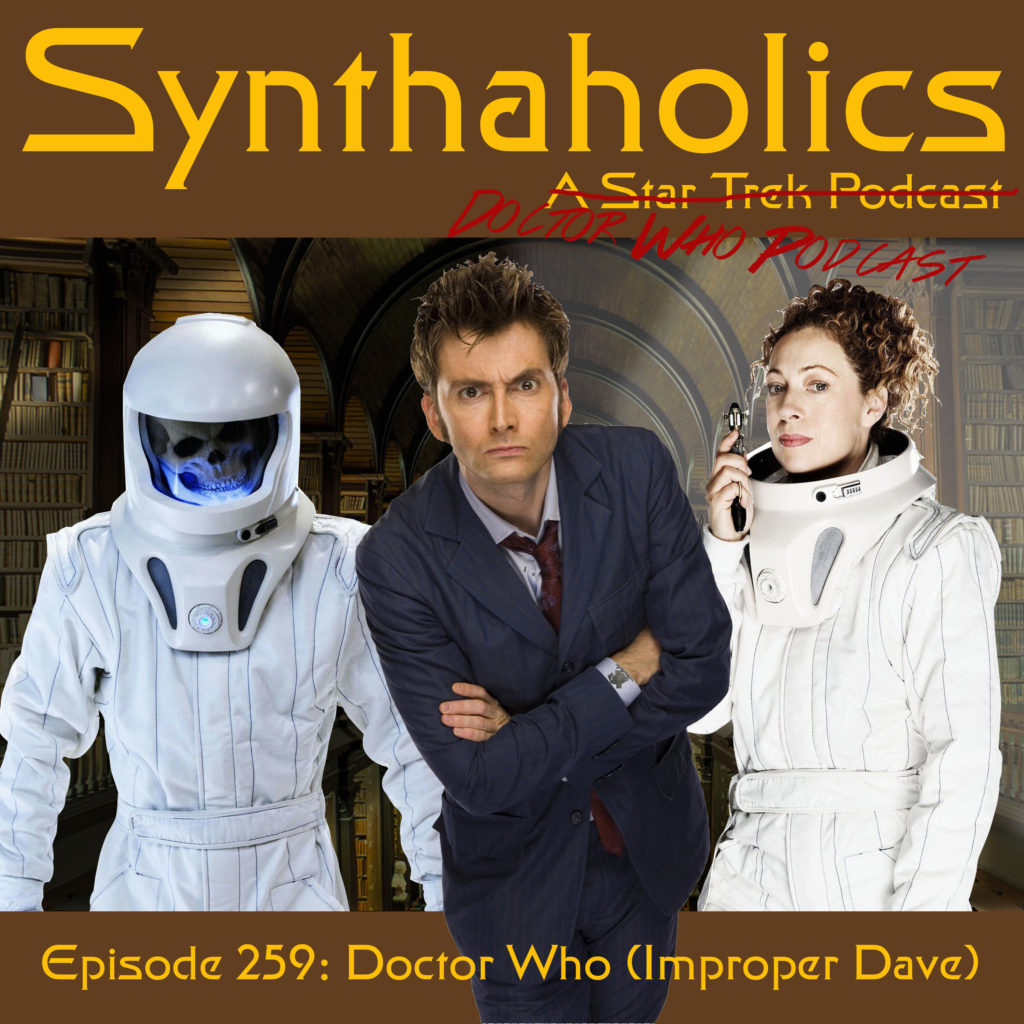 Episode 259: Doctor Who "Improper Dave"
This week, Dave becomes "Improper Dave" to Proper Dave and Other Dave! Aaron and Holly talked him into watching TWO Doctor Who episodes- fan favorites: "Silence in the Library" and "Forest of the Dead". He met David Tennant's Doctor, The Most Important Woman in the Universe, River Song, and the Vashta Nerada! As established fans of the show, Holly and Aaron knew they enjoyed these episodes, but if you're interested in what Improper Dave thinks, give this week's episode a listen, and remember to count the shadows!
Our music is provided by! http://warp11.com/
you can follow them at! https://twitter.com/warp11
If you would like to donate to us to help keep the show going please look at our Patreon
https://www.patreon.com/Synthaholics?ty=h
If you are a fan of Guy Davis and his art and comics you can support him at his Patreon
https://www.patreon.com/GSDavisArt?ty=h
Take a look at Holly's Website and blog
https://hollymichellev.wixsite.com/voiceover
Join the Facebook conversation!
https://www.facebook.com/groups/Synthaholics/
Email us
Subscribe to our YouTube Channel
https://www.youtube.com/synthaholics
Follow us on Twitter
Or Tumblr
http://synthaholics.tumblr.com/
Subscribe to us on iTunes
https://itunes.apple.com/us/podcast/synthaholics-star-trek-podcast/id981239466?mt=2
Subscribe to us on Google Play
https://play.google.com/music/listen?u=0#/ps/Immzfeujybtpjrz54khq3luqj3m
Subscribe to us on iHeartRadio
https://www.iheart.com/show/263-synthaholics-a-star/
Or subscribe to us on Stitcher Radio
http://www.stitcher.com/podcast/david-duncan/synthaholics?refid=stpr