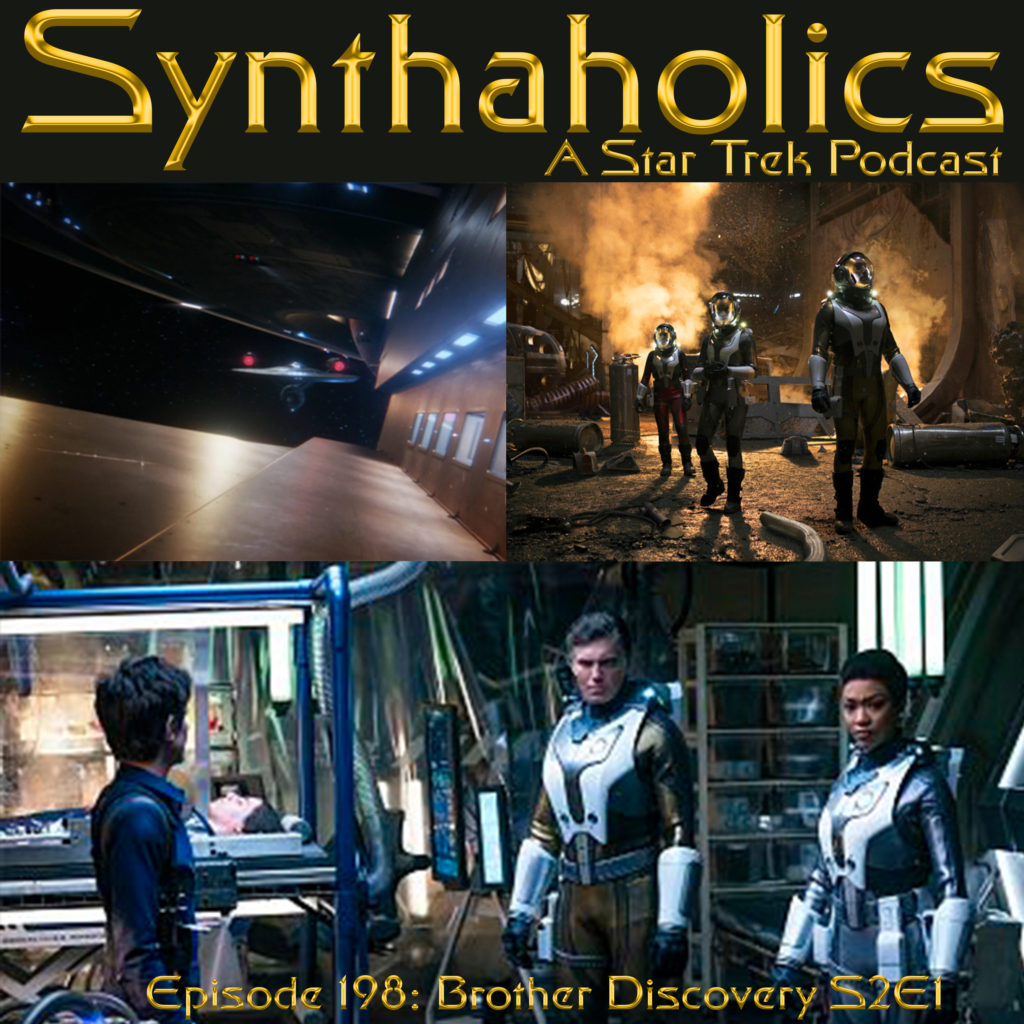 Episode 198: Brother Discovery S2 E1
Star Trek Discovery season two is upon us and we welcome Jerikandra Cosplay to the show to talk the first episode Brother. This podcast contains full spoilers for Star Trek Discovery episode Brother. We start off by giving out initial reactions for the episode. Aaron then gives us the episode recap then we discuss our more in depth thoughts on the show. We all seemed to really enjoy the first episode of season two. This season adds some new characters whom we all hope will stay around for the remainder of this season and beyond. Brother sets the stage for season two and we are all excited to see where the rest of the season takes us. Pour yourself a glass of saurian brandy it's time for your weekly shot of Star Trek!

Please take follow Jerikandra Cosplay on Facebook
You can find her Vlogs on YouTube
https://www.youtube.com/jerikandracosplay
You can Tweet to her on Twitter
And find her on instagram
https://www.instagram.com/jerikandra/
Our music is provided by! http://warp11.com/
you can follow them at! https://twitter.com/warp11
If you would like to donate to us to help keep the show going please look at our Patreon
https://www.patreon.com/Synthaholics?ty=h
If you are a fan of Guy Davis and his art and comics you can support him at his Patreon
https://www.patreon.com/GSDavisArt?ty=h
Join the Facebook conversation!
https://www.facebook.com/groups/Synthaholics/
Email us
Subscribe to our YouTube Channel
https://www.youtube.com/synthaholics
Follow us on Twitter
Or Tumblr
http://synthaholics.tumblr.com/
Subscribe to us on iTunes
https://itunes.apple.com/us/podcast/synthaholics-star-trek-podcast/id981239466?mt=2
Subscribe to us on Google Play
https://play.google.com/music/listen?u=0#/ps/Immzfeujybtpjrz54khq3luqj3m
Subscribe to us on iHeartRadio
https://www.iheart.com/show/263-synthaholics-a-star/
Or subscribe to us on Stitcher Radio
http://www.stitcher.com/podcast/david-duncan/synthaholics?refid=stpr