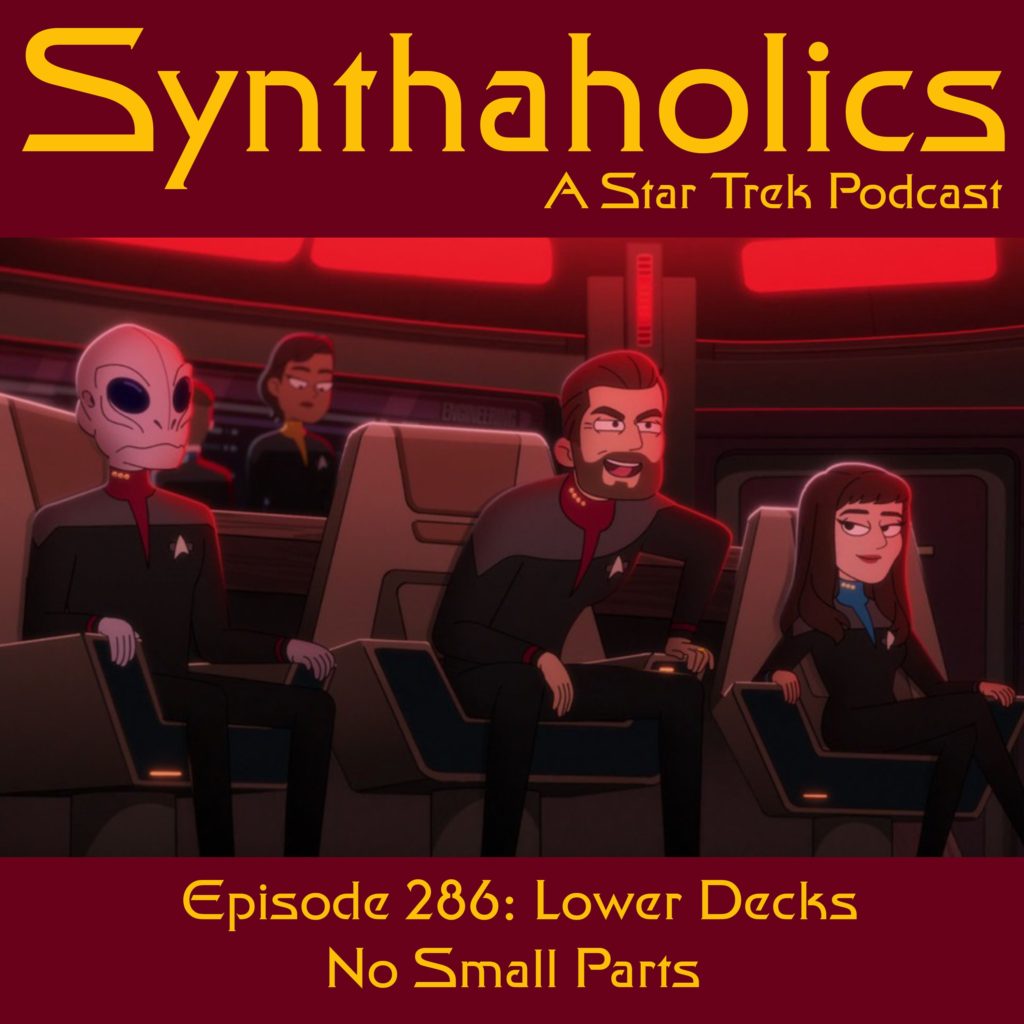 Episode 286: Lower Decks No Small Parts
Aaron and David are back this week to discuss the next episode of Lower Decks "No Small Parts". But first we have news that Kate Mulgrew is going to reprise her role as Captain or Admiral Janeway in the Star Trek Prodigy series that will be coming to Nickelodeon. In "No Small Parts" we get the Pakleds back something David was hoping for since the show first premiered. This time the Pakled have gone from passive aggressive dullard kidnappers to full on raging barbarians that offer up an actual threat to the crew of the USS Cerritos. Luckily Rider and Troi on the USS Titan show up at the last second to save our heroes. This was so great to finally get to see the Titan on screen and see more legacy characters in Lower Decks. It's time to pour yourself a cold glass of Romulan Whiskey, for your weekly shot of Star Trek!
Our music is provided by! http://warp11.com/
you can follow them at! https://twitter.com/warp11
If you would like to donate to us to help keep the show going please look at our Patreon
https://www.patreon.com/Synthaholics?ty=h
If you are a fan of Guy Davis and his art and comics you can support him at his Patreon
https://www.patreon.com/GSDavisArt?ty=h
Take a look at Holly's Website and blog
https://hollymichellev.wixsite.com/voiceover
Join the Facebook conversation!
https://www.facebook.com/groups/Synthaholics/
Email us
Subscribe to our YouTube Channel
https://www.youtube.com/synthaholics
Follow us on Twitter
Or Tumblr
http://synthaholics.tumblr.com/
Subscribe to us on iTunes
https://itunes.apple.com/us/podcast/synthaholics-star-trek-podcast/id981239466?mt=2
Subscribe to us on Google Play
https://play.google.com/music/listen?u=0#/ps/Immzfeujybtpjrz54khq3luqj3m
Subscribe to us on iHeartRadio
https://www.iheart.com/show/263-synthaholics-a-star/
Or subscribe to us on Stitcher Radio
http://www.stitcher.com/podcast/david-duncan/synthaholics?refid=stpr