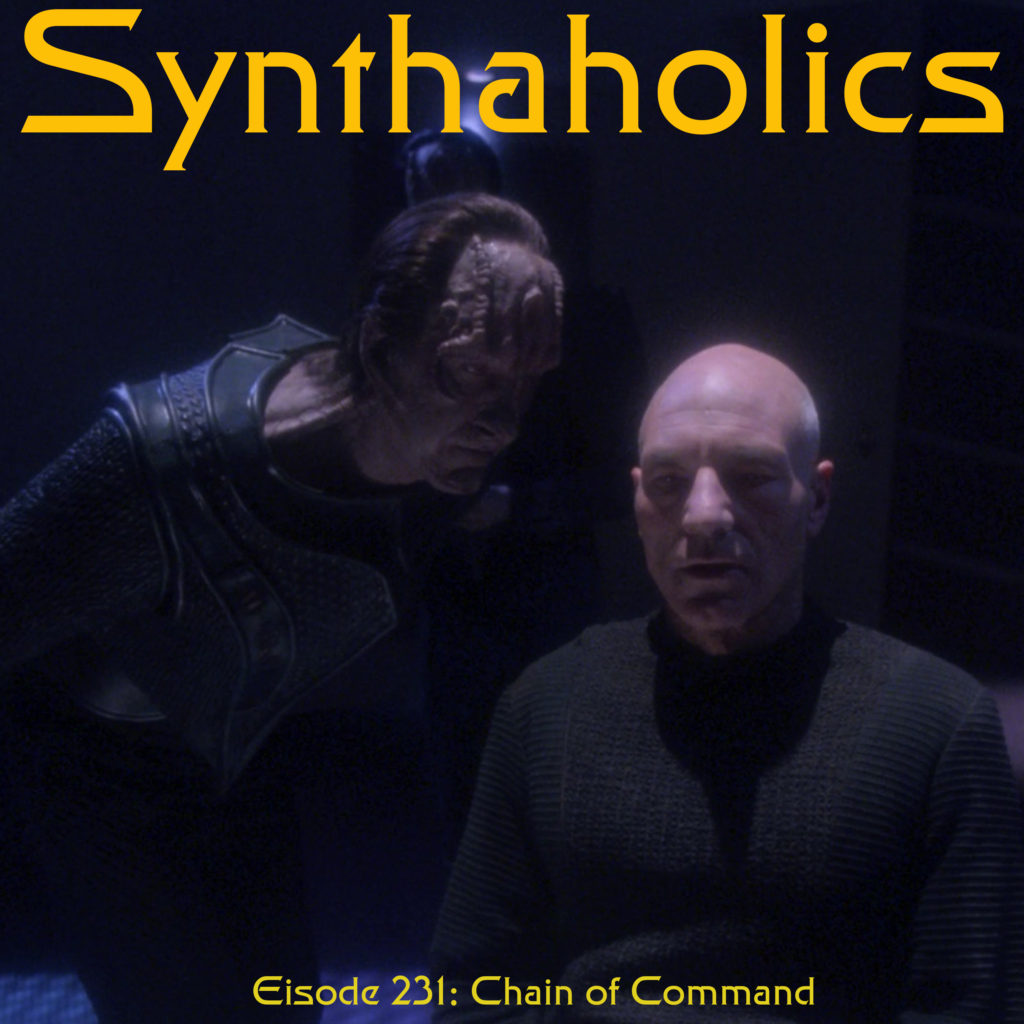 Episode 231: Chain of Command (with Guy Davis)

This is the tenth lookback episode of Picardí Breezer in preparation for the new Star Trek Series Picard! Picard becomes a Federation spy/ninja to infiltrate a Cardassian secret base. While Captain Jellico takes command of the Enterprise. Jellico adopts a "madman theory" diplomacy with the Cardassians and alienates the Enterprise crew. While Picard is captured by the Cardassians and asked how many lights are in his prison cell. Dave, Aaron & Guy Davis lookback at the Picard character as a 50 something year spy/ninja. Picard's torture and what it does to his mental state. Enjoy together responsibly!

Our music is provided by! http://warp11.com/
you can follow them at! https://twitter.com/warp11
If you would like to donate to us to help keep the show going please look at our Patreon
https://www.patreon.com/Synthaholics?ty=h
If you are a fan of Guy Davis and his art and comics you can support him at his Patreon
https://www.patreon.com/GSDavisArt?ty=h
Take a look at Holly's Website and blog
https://hollymichellev.wixsite.com/voiceover
Join the Facebook conversation!
https://www.facebook.com/groups/Synthaholics/
Email us
Subscribe to our YouTube Channel
https://www.youtube.com/synthaholics
Follow us on Twitter
Or Tumblr
http://synthaholics.tumblr.com/
Subscribe to us on iTunes
https://itunes.apple.com/us/podcast/synthaholics-star-trek-podcast/id981239466?mt=2
Subscribe to us on Google Play
https://play.google.com/music/listen?u=0#/ps/Immzfeujybtpjrz54khq3luqj3m
Subscribe to us on iHeartRadio
https://www.iheart.com/show/263-synthaholics-a-star/
Or subscribe to us on Stitcher Radio
http://www.stitcher.com/podcast/david-duncan/synthaholics?refid=stpr