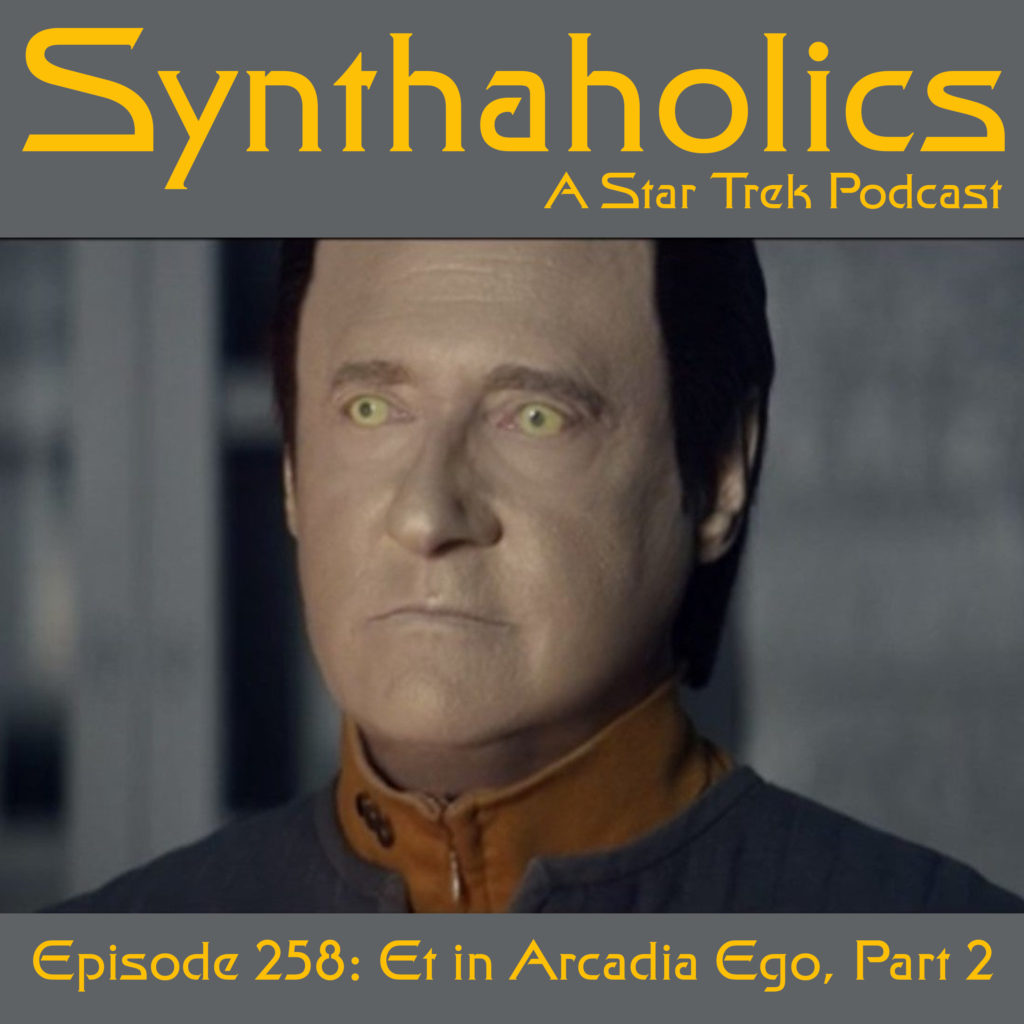 Episode 258: Et in Arcadia Ego, Part 2 with Jeff Heller of Screen Radar

The finale of Star Trek: Picard is here! We unpack this loaded episode with our guest Jeff Heller from Screen Radar. We all come out of Season One with different thoughts and feelings. Some of us felt that it was a good finale and season. While others feel it was a hollow ending. Will Soji become the "Destroyer"? How can Picard appeal to the Synths to not start Ganmadan or "Judgment Day"? Will the Romulan fleet destroy the Synth's homeworld? Is this season purely a goodbye for Commander Data? Will Picard say his last goodbyes to his friends? Will there be a Season Two? We discuss all these questions and more. Please join us for a lively examination of this episode. Enjoy together responsibly!
Our music is provided by! http://warp11.com/
you can follow them at! https://twitter.com/warp11
If you would like to donate to us to help keep the show going please look at our Patreon
https://www.patreon.com/Synthaholics?ty=h
If you are a fan of Guy Davis and his art and comics you can support him at his Patreon
https://www.patreon.com/GSDavisArt?ty=h
Take a look at Holly's Website and blog
https://hollymichellev.wixsite.com/voiceover
Join the Facebook conversation!
https://www.facebook.com/groups/Synthaholics/
Email us
Subscribe to our YouTube Channel
https://www.youtube.com/synthaholics
Follow us on Twitter
Or Tumblr
http://synthaholics.tumblr.com/
Subscribe to us on iTunes
https://itunes.apple.com/us/podcast/synthaholics-star-trek-podcast/id981239466?mt=2
Subscribe to us on Google Play
https://play.google.com/music/listen?u=0#/ps/Immzfeujybtpjrz54khq3luqj3m
Subscribe to us on iHeartRadio
https://www.iheart.com/show/263-synthaholics-a-star/
Or subscribe to us on Stitcher Radio
http://www.stitcher.com/podcast/david-duncan/synthaholics?refid=stpr