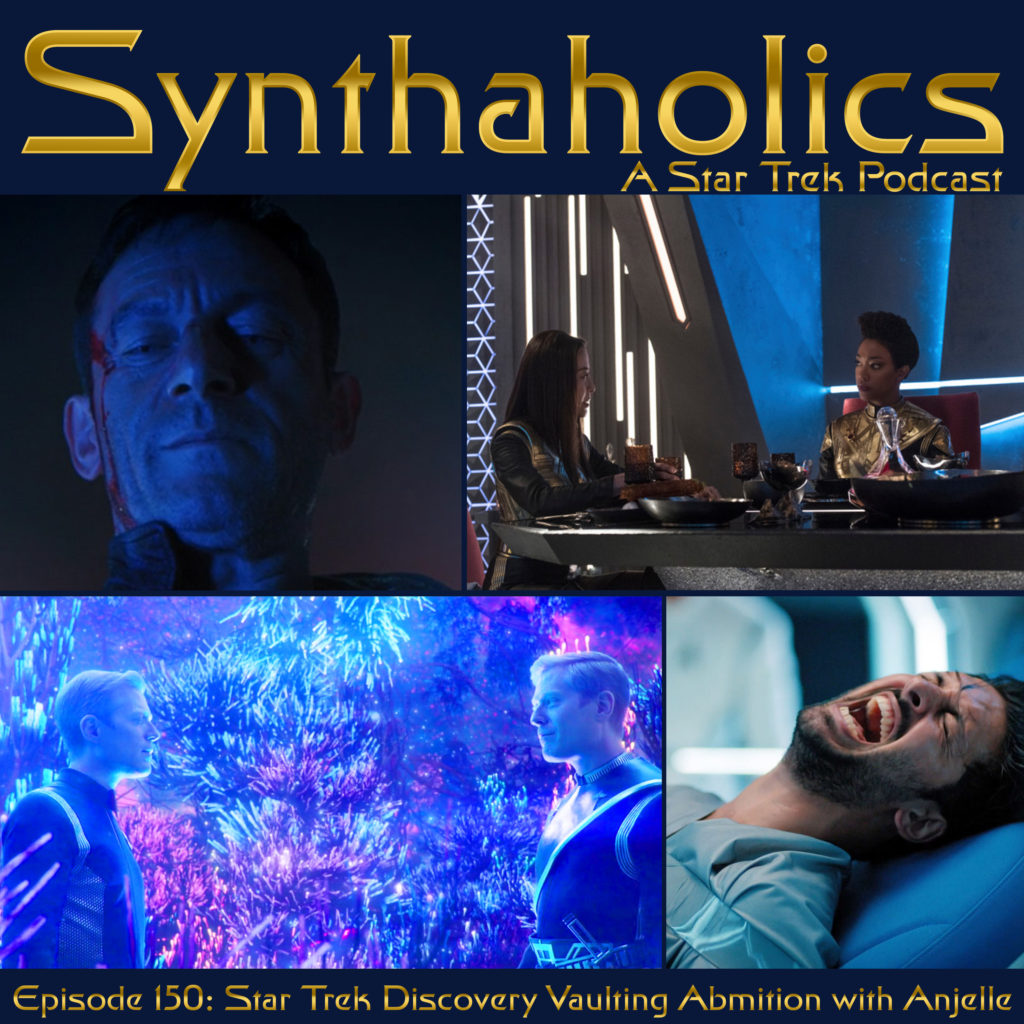 Synthaholics Episode 150: Star Trek Discovery Vaulting Ambition with Anjelle
This week our friend Anjelle joins Aaron and David to discuss Star Trek Discovery Vaulting Ambition! For our third week straight we are in the mirror universe. Vaulting Ambition was a very fun episode but It took us through a few twists some we saw coming and some that we did not see.
While the jaunt to the mirror universe has been interesting both Aaron and David hope next week's episode will take us back to the prime universe. Make sure you grab your pain numbing agent! It\s time for another trip to the agonizer booth!
Anjelle now has a Facebook Cosplay Fan page. Please give it a look and a like
https://www.facebook.com/Anjelle-Jeanne-Cosplay-940817869415677/
Our music is provided by! http://warp11.com/
you can follow them at! https://twitter.com/warp11
If you would like to donate to us to help keep the show going please look at our Patreon
https://www.patreon.com/Synthaholics?ty=h
If you are a fan of Guy Davis and his art and comics you can support him at his Patreon
https://www.patreon.com/GSDavisArt?ty=h
Join the Facebook conversation!
https://www.facebook.com/groups/Synthaholics/
Email us
synthaholics@yahoo.com
Subscribe to our YouTube Channel
https://www.youtube.com/synthaholics
Follow us on Twitter
https://twitter.com/SynthaholicDuo
Or Tumblr
http://synthaholics.tumblr.com/
Subscribe to us on iTunes
https://itunes.apple.com/us/podcast/synthaholics-star-trek-podcast/id981239466?mt=2
Subscribe to us on Google Play
https://play.google.com/music/listen?u=0#/ps/Immzfeujybtpjrz54khq3luqj3m
Subscribe to us on iHeartRadio
https://www.iheart.com/show/263-synthaholics-a-star/
Or subscribe to us on Stitcher Radio
http://www.stitcher.com/podcast/david-duncan/synthaholics?refid=stpr
If you like the show please leave us a rating and review on either platform