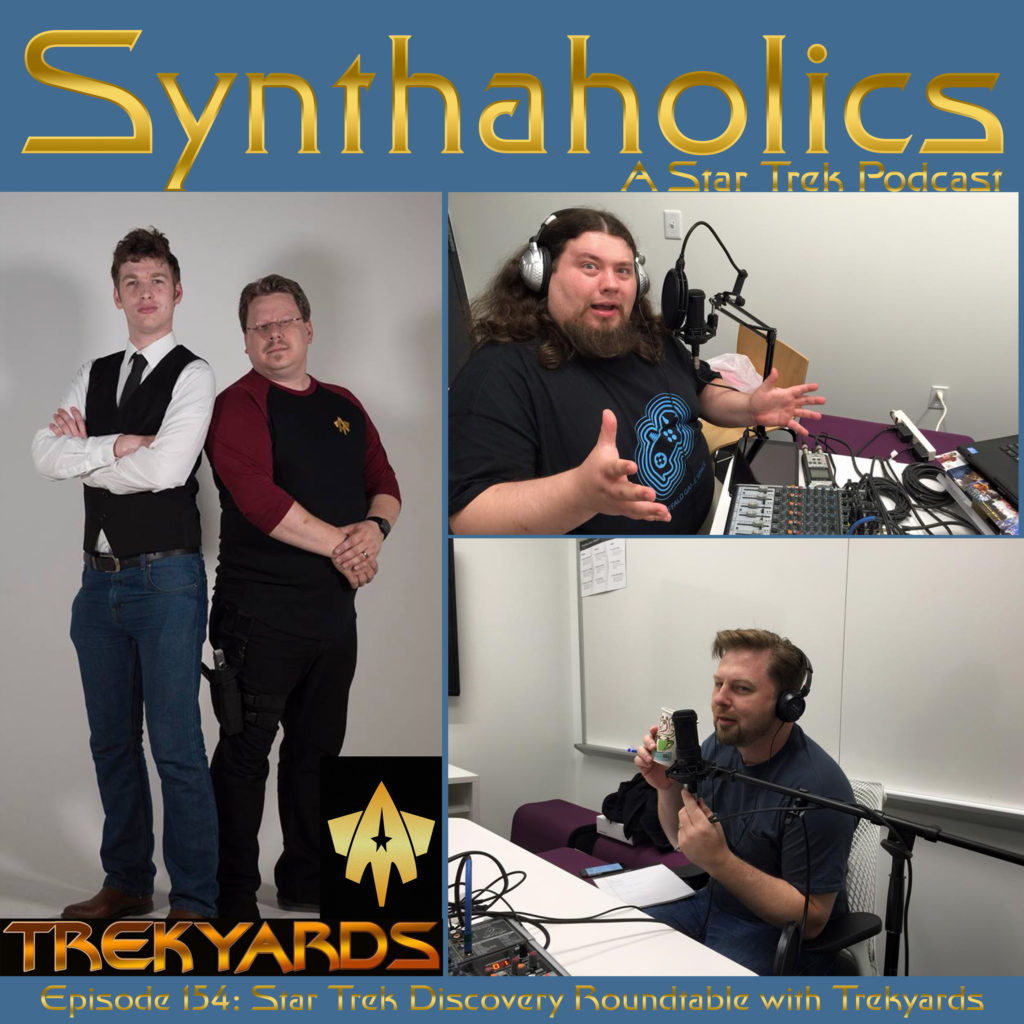 Episode 154: Star Trek Discovery Roundtable with Trekyards
This week Aaron and David welcome Captain Foley and Commander Cockings of the Trekyards YouTube channel for a Star Trek Discovery Roundtable discussion! We all have had a week to digest and ponder the whole first season of Star Trek Discovery and have come together to discuss our thoughts and feelings on the show.
As this episode is roundtable style its a bit more laid back and more conversational. It was great discussing the Discovery as a whole with Trekyards. We also take turns at the end discussing what we would each do if we had the keys to Star Trek Discovery for season two. The future of the show is so very exciting there are so many places the show can go. We can't wait to see what Star Trek Discovery has instore for the future! Grab a few drinks and join the roundtable it's time for your weekly shot of Star Trek!
Trekyards Links
Please check out the links for Trekyards and Fleetyards on Facebook and subscribe to their YouTube channel for great Star Trek content.
https://www.facebook.com/groups/trekyards/
https://www.facebook.com/groups/fleetyards/
https://www.youtube.com/user/knightstalker666
Synthaholics Links
Our music is provided by! http://warp11.com/
you can follow them at! https://twitter.com/warp11
If you would like to donate to us to help keep the show going please look at our Patreon
https://www.patreon.com/Synthaholics?ty=h
If you are a fan of Guy Davis and his art and comics you can support him at his Patreon
https://www.patreon.com/GSDavisArt?ty=h
Join the Facebook conversation!
https://www.facebook.com/groups/Synthaholics/
Email us
Subscribe to our YouTube Channel
https://www.youtube.com/synthaholics
Follow us on Twitter
https://twitter.com/SynthaholicDuo
Or Tumblr
http://synthaholics.tumblr.com/
Subscribe to us on iTunes
https://itunes.apple.com/us/podcast/synthaholics-star-trek-podcast/id981239466?mt=2
Subscribe to us on Google Play
https://play.google.com/music/listen?u=0#/ps/Immzfeujybtpjrz54khq3luqj3m
Subscribe to us on iHeartRadio
https://www.iheart.com/show/263-synthaholics-a-star/
Or subscribe to us on Stitcher Radio
http://www.stitcher.com/podcast/david-duncan/synthaholics?refid=stpr
If you like the show please leave us a rating and review on either platform