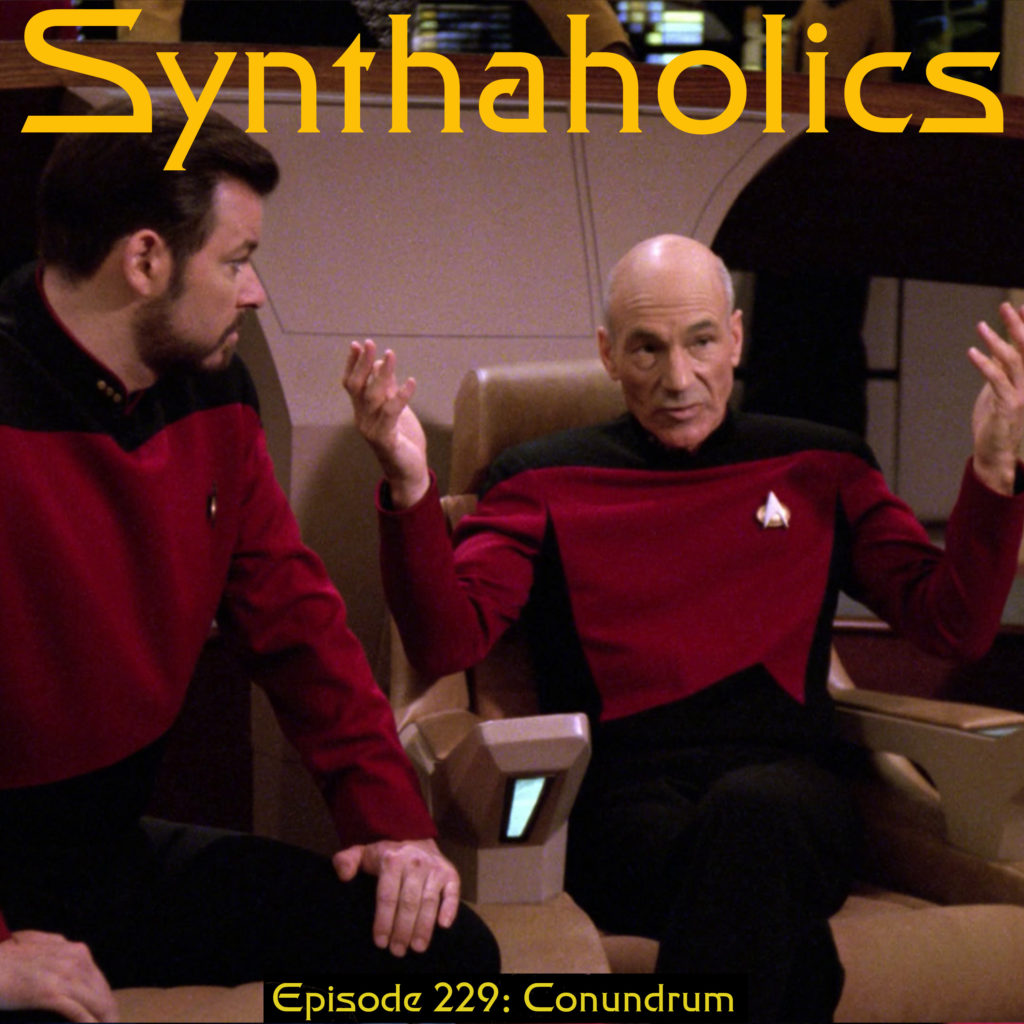 Episode 229: Conundrum

Rainbow Panties. Pew Pew Pew. Space Rubbers. My LIttle Pony. Tiny Cane. Mmmmbop. Crochet Cod Pieces. Balloon Noises. Magma Bones. Equal OpportuniTitts… OpporBoobity… Boobertunist! Confused? Well GOOD, We wouldn't want you walking into this episode knowing what the hell was going on, now would we?
Tune in to this weeks Synthaholics discussion in preparation for the very recently wrapped first season of the new Star Trek Series -Picard!

Our music is provided by! http://warp11.com/
you can follow them at! https://twitter.com/warp11
If you would like to donate to us to help keep the show going please look at our Patreon
https://www.patreon.com/Synthaholics?ty=h
If you are a fan of Guy Davis and his art and comics you can support him at his Patreon
https://www.patreon.com/GSDavisArt?ty=h
Take a look at Holly's Website and blog
https://hollymichellev.wixsite.com/voiceover
Join the Facebook conversation!
https://www.facebook.com/groups/Synthaholics/
Email us
Subscribe to our YouTube Channel
https://www.youtube.com/synthaholics
Follow us on Twitter
Or Tumblr
http://synthaholics.tumblr.com/
Subscribe to us on iTunes
https://itunes.apple.com/us/podcast/synthaholics-star-trek-podcast/id981239466?mt=2
Subscribe to us on Google Play
https://play.google.com/music/listen?u=0#/ps/Immzfeujybtpjrz54khq3luqj3m
Subscribe to us on iHeartRadio
https://www.iheart.com/show/263-synthaholics-a-star/
Or subscribe to us on Stitcher Radio
http://www.stitcher.com/podcast/david-duncan/synthaholics?refid=stpr