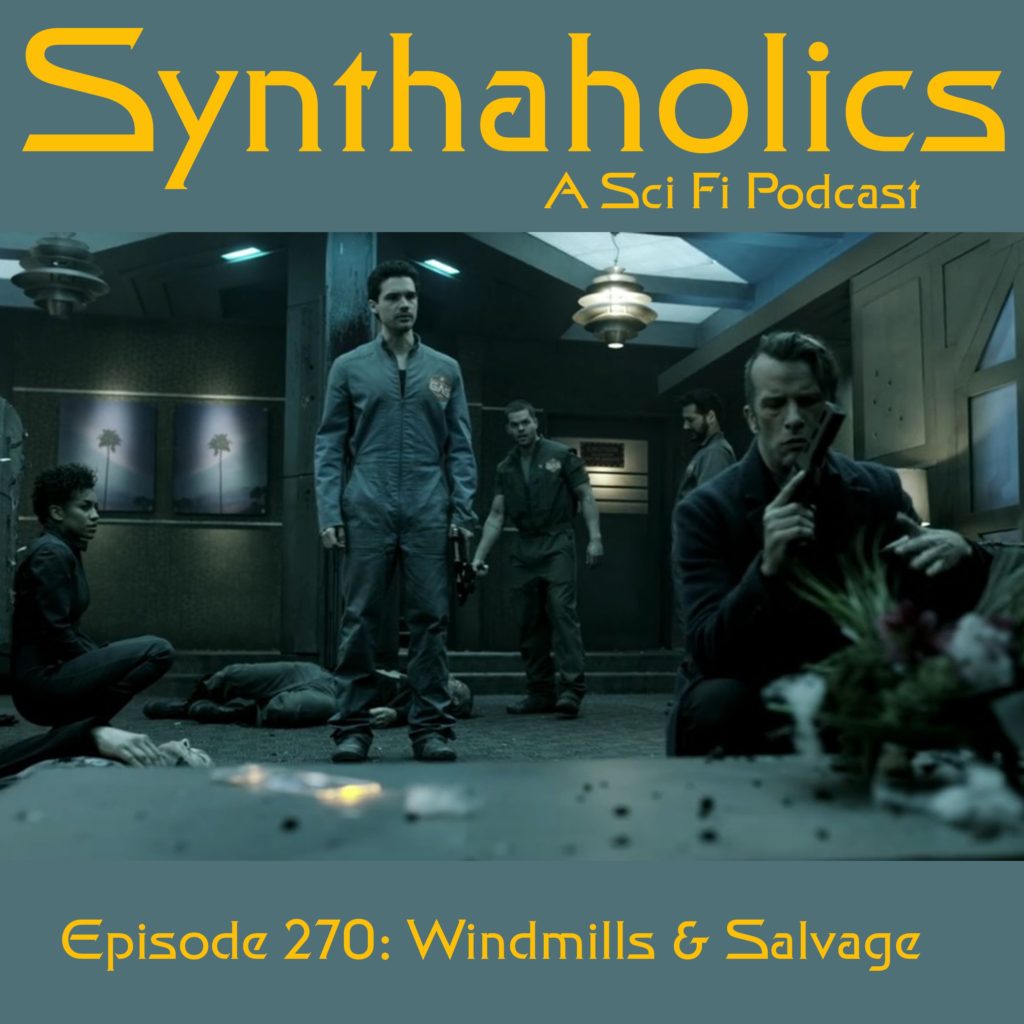 Episode 270: Windmills & Salvage
Once more unto the breach, dear friends! Into the Expanse – with David, Holly and Aaron!
This week Chrisjen makes a house call with James Holden's family in Montana. We discover the secret meaning of "donkey balls". The crew of the Rocinante discovers a derelict vessel holding a secret that may destroy humankind. (No big deal…) Holden and crew go to Eros, where they finally meet with Miller. Only to find the horrifying fate of Julie Mao. Pour yourself a cold beverage and listen to more Expanse. Enjoy together responsibly!
Our music is provided by! http://warp11.com/
you can follow them at! https://twitter.com/warp11
If you would like to donate to us to help keep the show going please look at our Patreon
https://www.patreon.com/Synthaholics?ty=h
If you are a fan of Guy Davis and his art and comics you can support him at his Patreon
https://www.patreon.com/GSDavisArt?ty=h
Take a look at Holly's Website and blog
https://hollymichellev.wixsite.com/voiceover
Join the Facebook conversation!
https://www.facebook.com/groups/Synthaholics/
Email us
Subscribe to our YouTube Channel
https://www.youtube.com/synthaholics
Follow us on Twitter
Or Tumblr
http://synthaholics.tumblr.com/
Subscribe to us on iTunes
https://itunes.apple.com/us/podcast/synthaholics-star-trek-podcast/id981239466?mt=2
Subscribe to us on Google Play
https://play.google.com/music/listen?u=0#/ps/Immzfeujybtpjrz54khq3luqj3m
Subscribe to us on iHeartRadio
https://www.iheart.com/show/263-synthaholics-a-star/
Or subscribe to us on Stitcher Radio
http://www.stitcher.com/podcast/david-duncan/synthaholics?refid=stpr