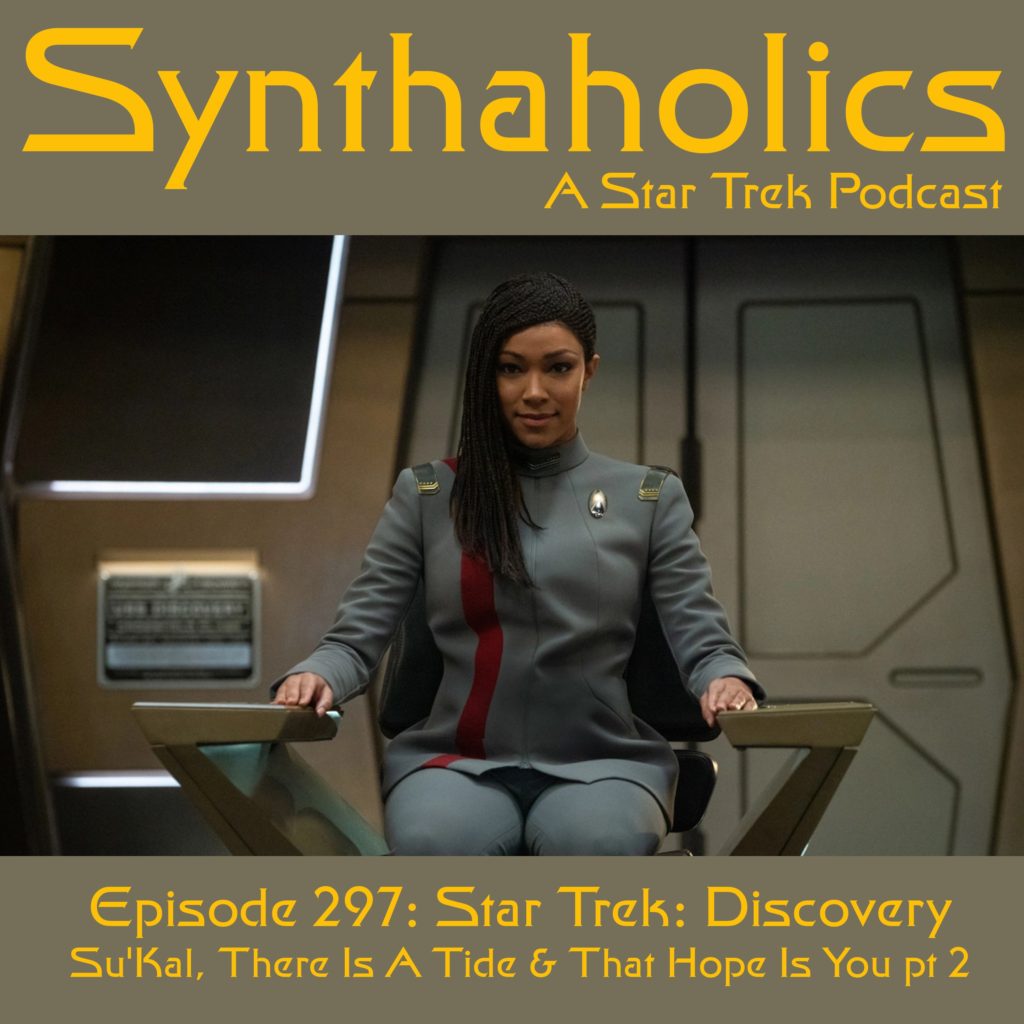 Episode 297: Su'Kal, There Is a Tide, & That Hope is You pt 2
It's 2021 and we are back to discuss the final three episodes of Star Trek Discovery Season Three, "Su'Kal", "There is a Tide" and "That Hope is You Part 2". The season wraps things up in a nice bow so they can have yet another fresh start when season four comes along. But did the season wrap things up in a satisfying thought provoking way? Well I'm sure that is something you have to decide for yourself but we invite you to listen to hear our thoughts on if the ending was a satisfying one or not. We also have an announcement at the top of the episode. Time to pour yourself a cold glass of Ni'Varian Ale, for your weekly shot of Star Trek! 
Our music is provided by! http://warp11.com/
you can follow them at! https://twitter.com/warp11
If you would like to donate to us to help keep the show going please look at our Patreon
https://www.patreon.com/Synthaholics?ty=h
If you are a fan of Guy Davis and his art and comics you can support him at his Patreon
https://www.patreon.com/GSDavisArt?ty=h
Take a look at Holly's Website and blog
https://hollymichellev.wixsite.com/voiceover
Join the Facebook conversation!
https://www.facebook.com/groups/Synthaholics/
Email us
Subscribe to our YouTube Channel
https://www.youtube.com/synthaholics
Follow us on Twitter
Or Tumblr
http://synthaholics.tumblr.com/
Subscribe to us on iTunes
https://itunes.apple.com/us/podcast/synthaholics-star-trek-podcast/id981239466?mt=2
Subscribe to us on Google Play
https://play.google.com/music/listen?u=0#/ps/Immzfeujybtpjrz54khq3luqj3m
Subscribe to us on iHeartRadio
https://www.iheart.com/show/263-synthaholics-a-star/
Or subscribe to us on Stitcher Radio
http://www.stitcher.com/podcast/david-duncan/synthaholics?refid=stpr