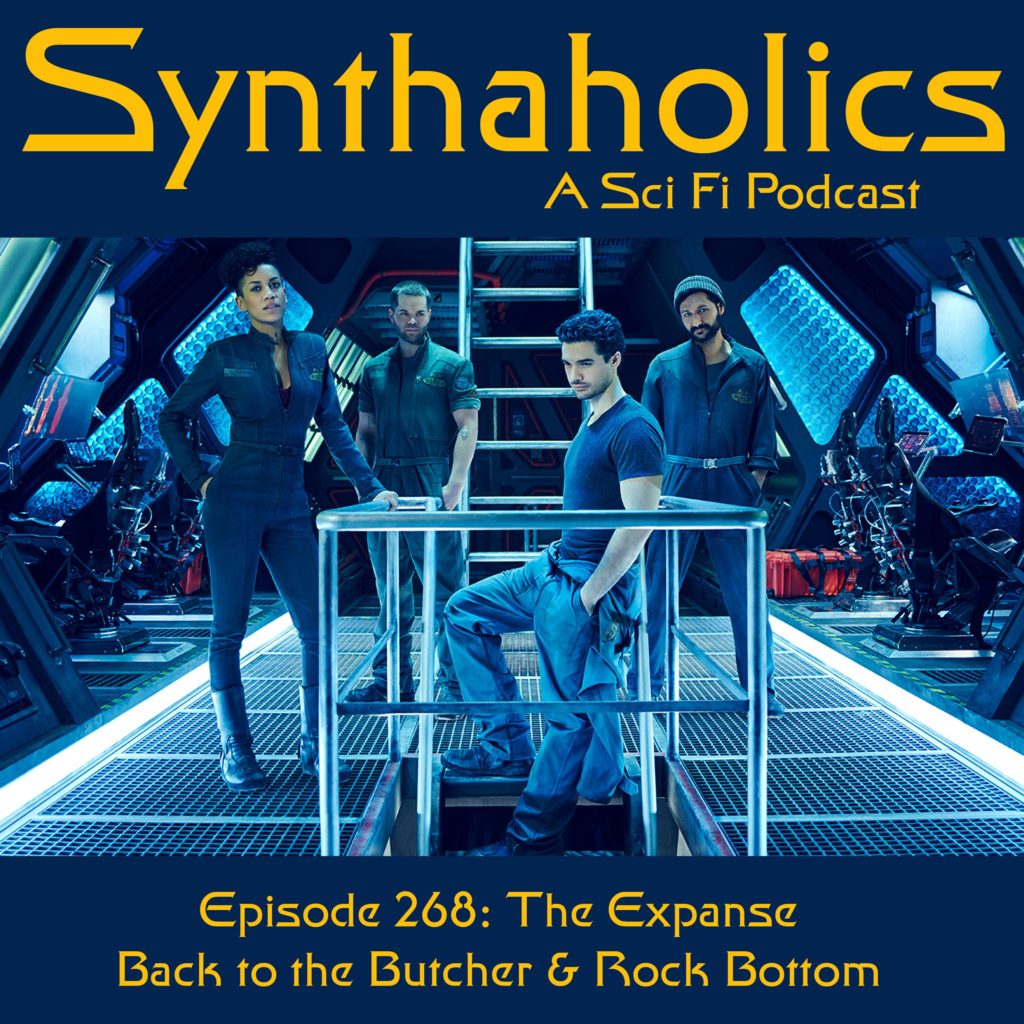 Episode 268: The Expanse: Back to the Butcher & Rock Bottom
This week David and Aaron talk more of the Expanse!
What happened to Anderson Station? Fred Johnson happened to Anderson Station! "The Butcher of Anderson Station"! James Holden christens their vessel the "Rocinante" and finds safe harbor on Tycho Station where they make an unlikely ally. On Ceres, along with his conspiracy theories about Julie Mao, Detective Miller's obsession with the missing girl intensifies. Miller is interrogated and tortured by Anderson Dawes and almost blown out an airlock! Join us for all this and more on Synthaholics!
Our music is provided by! http://warp11.com/
you can follow them at! https://twitter.com/warp11
If you would like to donate to us to help keep the show going please look at our Patreon
https://www.patreon.com/Synthaholics?ty=h
If you are a fan of Guy Davis and his art and comics you can support him at his Patreon
https://www.patreon.com/GSDavisArt?ty=h
Take a look at Holly's Website and blog
https://hollymichellev.wixsite.com/voiceover
Join the Facebook conversation!
https://www.facebook.com/groups/Synthaholics/
Email us
Subscribe to our YouTube Channel
https://www.youtube.com/synthaholics
Follow us on Twitter
Or Tumblr
http://synthaholics.tumblr.com/
Subscribe to us on iTunes
https://itunes.apple.com/us/podcast/synthaholics-star-trek-podcast/id981239466?mt=2
Subscribe to us on Google Play
https://play.google.com/music/listen?u=0#/ps/Immzfeujybtpjrz54khq3luqj3m
Subscribe to us on iHeartRadio
https://www.iheart.com/show/263-synthaholics-a-star/
Or subscribe to us on Stitcher Radio
http://www.stitcher.com/podcast/david-duncan/synthaholics?refid=stpr