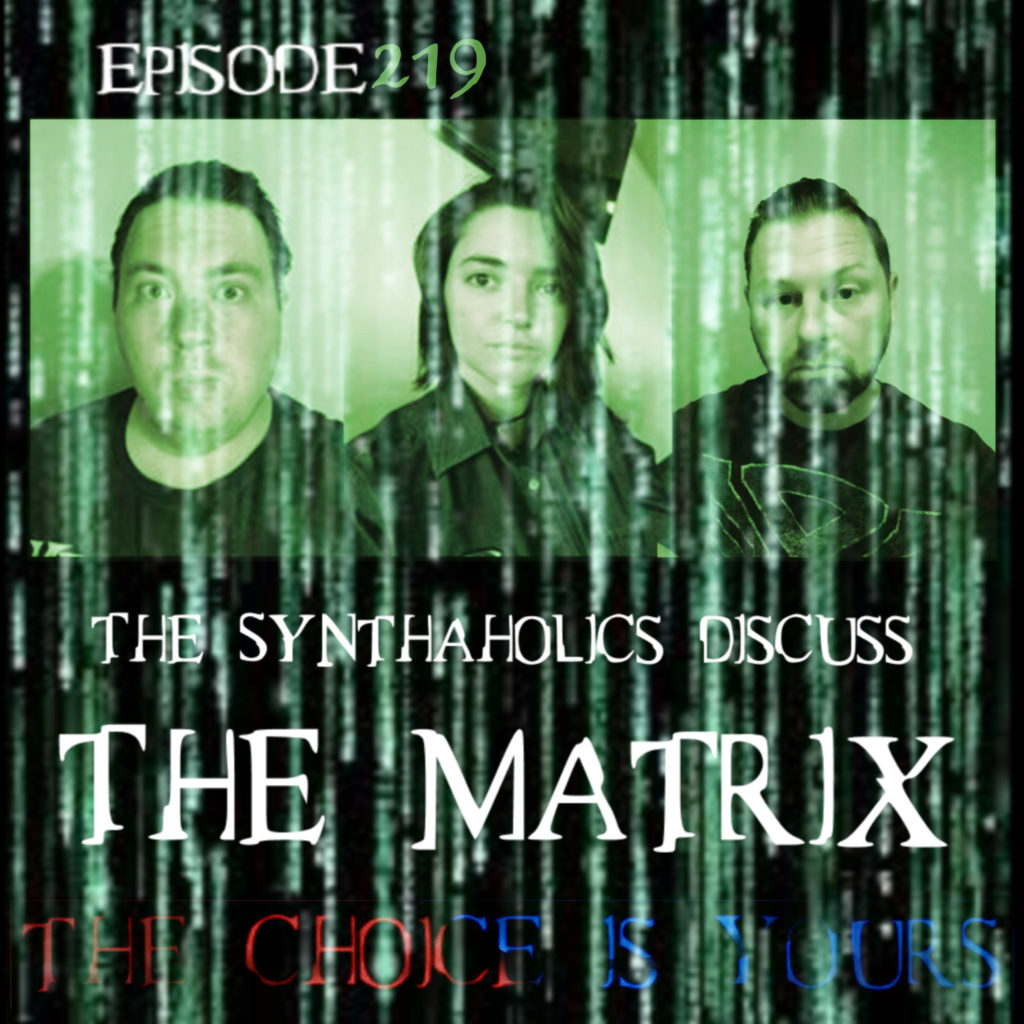 Episode 219: The Matrix

Follow the white rabbit… Just not the A.D.D ones! Hah.. the "Ones'". David, Aaron, and Holly (or Detergent, Dishwasher, and Spork) find themselves outside of the Matrix this week, looking in on a world where Artificial Intelligence- or A.I, has enslaved the human race… but they're most happy about it! …Oblivious would be the correct term. If you've not seen "The Matrix" you have most definitely either heard reference to it or been privy to experiencing interpretations of scenes from the film. A Classic Sci-Fi film that rocked the world with its concept and imagination. Do the other two films carry the weight of the first? We will Discuss this more as we traverse the Matrix, so stay Jacked In to find out.

Our music is provided by! http://warp11.com/
you can follow them at! https://twitter.com/warp11
If you would like to donate to us to help keep the show going please look at our Patreon
https://www.patreon.com/Synthaholics?ty=h
If you are a fan of Guy Davis and his art and comics you can support him at his Patreon
https://www.patreon.com/GSDavisArt?ty=h
Take a look at Holly's Website and blog
https://hollymichellev.wixsite.com/voiceover
Join the Facebook conversation!
https://www.facebook.com/groups/Synthaholics/
Email us
Subscribe to our YouTube Channel
https://www.youtube.com/synthaholics
Follow us on Twitter
Or Tumblr
http://synthaholics.tumblr.com/
Subscribe to us on iTunes
https://itunes.apple.com/us/podcast/synthaholics-star-trek-podcast/id981239466?mt=2
Subscribe to us on Google Play
https://play.google.com/music/listen?u=0#/ps/Immzfeujybtpjrz54khq3luqj3m
Subscribe to us on iHeartRadio
https://www.iheart.com/show/263-synthaholics-a-star/
Or subscribe to us on Stitcher Radio
http://www.stitcher.com/podcast/david-duncan/synthaholics?refid=stpr