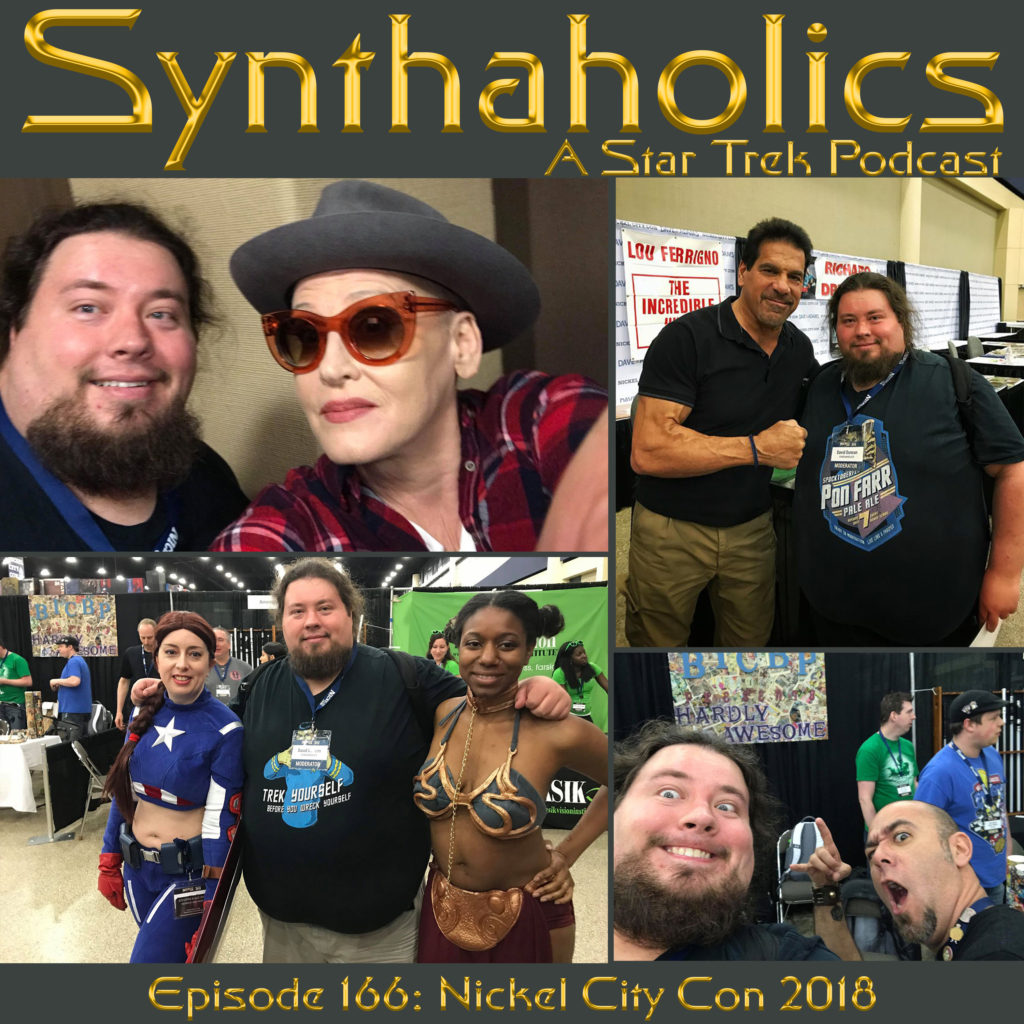 Episode 166: Nickel City Con 2018
Last week we mentioned we could be at Nickel City Con and we had a fantastic time at the con this past weekend. Aaron ran the Numina Comics table and David was a roamer when he wasn't moderating panels with Barbara Eden, Frank Cho, and Lori Petty. We didn't speak to as many guests and vendors this year as past years. David did run into Jeff who has been on past comic con episodes and our Balance of Terror episode.
David also got to talk to the Angry Video Game Nerd about some of his favorite Star Trek moments. To round out the episode Aaron and I recorded our first podcast panel at Nickel City Con. To round out the panel Robbie from The Nerdynomicon and Chris Chavez from the BICBP Radio Network join us. The panel is more about letting the people know about our shows and if they had and questions getting a podcast started. We hope you enjoy this special convention episode of Synthaholics!
Guests Links
You can find the Angry Video Game Nerd at www.youtube.com/JamesNintendoNerd
Please take a look at Chris's podcast network website www.Bicbp-radio.com/
Check out the Nerdynomicon on Youtube at www.Youtube.com/Nerdynomicon
Synthaholics Links
Our music is provided by! http://warp11.com/
you can follow them at! https://twitter.com/warp11
If you would like to donate to us to help keep the show going please look at our Patreon
https://www.patreon.com/Synthaholics?ty=h
If you are a fan of Guy Davis and his art and comics you can support him at his Patreon
https://www.patreon.com/GSDavisArt?ty=h
Join the Facebook conversation!
https://www.facebook.com/groups/Synthaholics/
Email us
synthaholics@yahoo.com
Subscribe to our YouTube Channel
https://www.youtube.com/synthaholics
Follow us on Twitter
https://twitter.com/SynthaholicDuo
Or Tumblr
http://synthaholics.tumblr.com/
Subscribe to us on iTunes
https://itunes.apple.com/us/podcast/synthaholics-star-trek-podcast/id981239466?mt=2
Subscribe to us on Google Play
https://play.google.com/music/listen?u=0#/ps/Immzfeujybtpjrz54khq3luqj3m
Subscribe to us on iHeartRadio
https://www.iheart.com/show/263-synthaholics-a-star/
Or subscribe to us on Stitcher Radio
http://www.stitcher.com/podcast/david-duncan/synthaholics?refid=stpr
If you like the show please leave us a rating and review on either platform