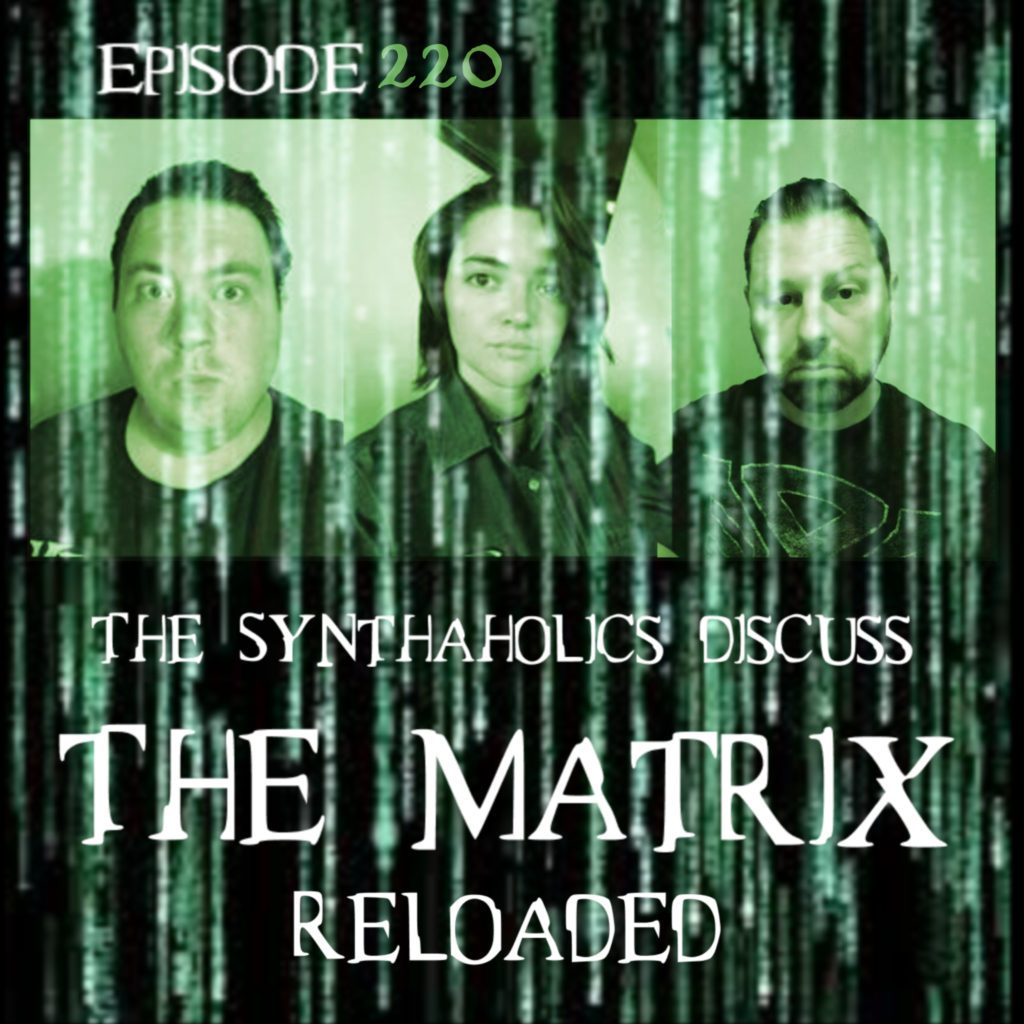 Episode 220: The Matrix Reloaded

This week the Synthaholics get Loaded, and no one can seem to agree whether there is a Matrix within a Matrix, or if Neo simply has a unique connection to the A.I who enslaved all of humanity. While there are far less rabbit holes in this episode, this weeks' episode is a bit on the longer side -much like a few of the sequences in The Matrix Reloaded! This film is packed with action and intrigue and we are all looking forward to see what is next for Neo and the team! So Jack-in, find yourself a Jack'n'Coke, and traverse The Wachowski's imaginary world that influenced so much of pop culture and film. And please… if you're gonna Jack Off, keep it to yourself and don't do it on our exit!

Our music is provided by! http://warp11.com/
you can follow them at! https://twitter.com/warp11
If you would like to donate to us to help keep the show going please look at our Patreon
https://www.patreon.com/Synthaholics?ty=h
If you are a fan of Guy Davis and his art and comics you can support him at his Patreon
https://www.patreon.com/GSDavisArt?ty=h
Take a look at Holly's Website and blog
https://hollymichellev.wixsite.com/voiceover
Join the Facebook conversation!
https://www.facebook.com/groups/Synthaholics/
Email us
Subscribe to our YouTube Channel
https://www.youtube.com/synthaholics
Follow us on Twitter
Or Tumblr
http://synthaholics.tumblr.com/
Subscribe to us on iTunes
https://itunes.apple.com/us/podcast/synthaholics-star-trek-podcast/id981239466?mt=2
Subscribe to us on Google Play
https://play.google.com/music/listen?u=0#/ps/Immzfeujybtpjrz54khq3luqj3m
Subscribe to us on iHeartRadio
https://www.iheart.com/show/263-synthaholics-a-star/
Or subscribe to us on Stitcher Radio
http://www.stitcher.com/podcast/david-duncan/synthaholics?refid=stpr