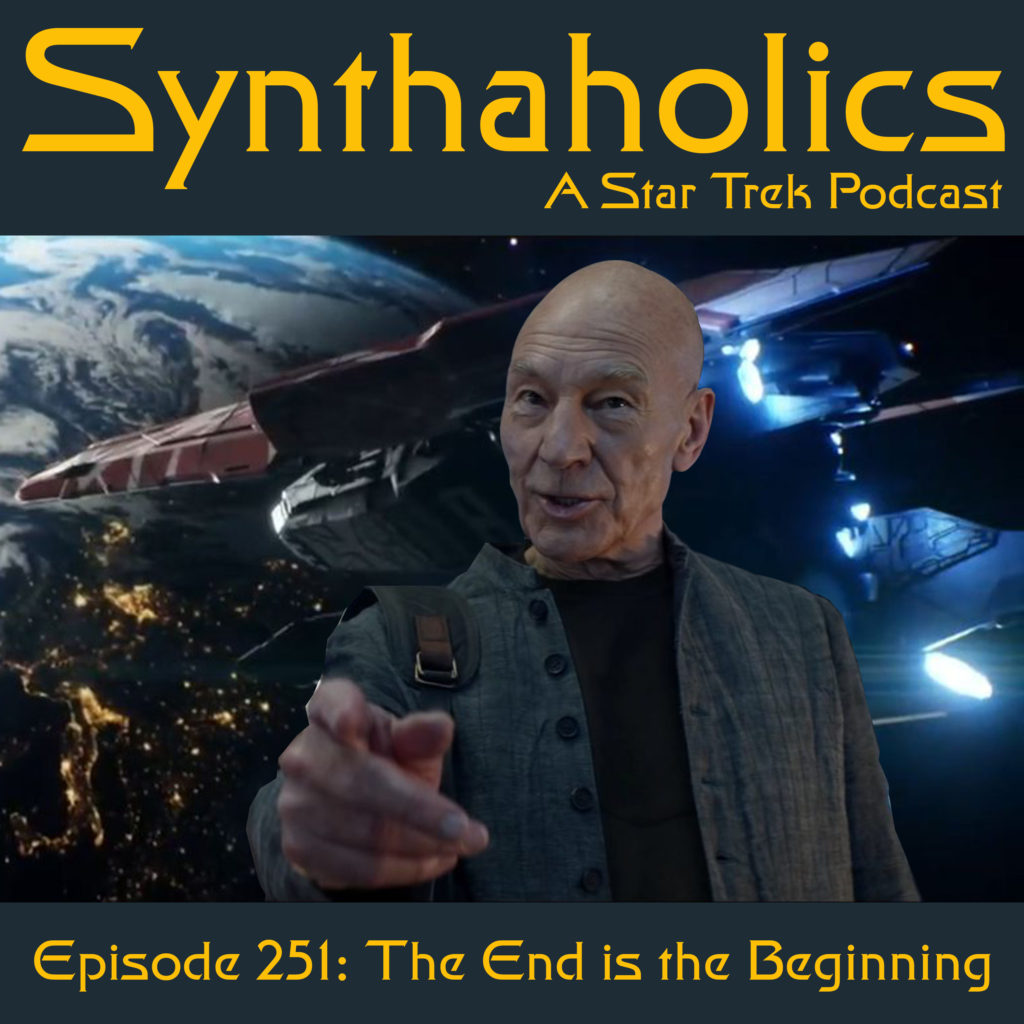 Episode 251: The End is the Beginning

This week Holly, Dave & Aaron are joined with the "Grumpy Geek" himself Pete Herr of The Geekiverse to talk Star Trek: Picard. This episode "The End is the Beginning", we go further into the Romulan Tal Shiar and Zhat Vash conspiracy. How does this connect with Data's daughters and the Borg? Jean-Luc Picard recruits an ex-Star Fleet officer Rios as a pilot to help him find Bruce Maddox. Raffi and Dr. Agnes Jurarti join Picard in his search. Soji is seduced by her Romulan boyfriend Narek. While Soji is wonders how her knowledge of anthropology is greater than it should be. Speculations ABOUND! As we try to piece together the clues of Star Trek: Picard. Enjoy together responsibly!
Please check out our friends at The Geekiverse. https://thegeekiverse.com/

Our music is provided by! http://warp11.com/
you can follow them at! https://twitter.com/warp11
If you would like to donate to us to help keep the show going please look at our Patreon
https://www.patreon.com/Synthaholics?ty=h
If you are a fan of Guy Davis and his art and comics you can support him at his Patreon
https://www.patreon.com/GSDavisArt?ty=h
Take a look at Holly's Website and blog
https://hollymichellev.wixsite.com/voiceover
Join the Facebook conversation!
https://www.facebook.com/groups/Synthaholics/
Email us
Subscribe to our YouTube Channel
https://www.youtube.com/synthaholics
Follow us on Twitter
Or Tumblr
http://synthaholics.tumblr.com/
Subscribe to us on iTunes
https://itunes.apple.com/us/podcast/synthaholics-star-trek-podcast/id981239466?mt=2
Subscribe to us on Google Play
https://play.google.com/music/listen?u=0#/ps/Immzfeujybtpjrz54khq3luqj3m
Subscribe to us on iHeartRadio
https://www.iheart.com/show/263-synthaholics-a-star/
Or subscribe to us on Stitcher Radio
http://www.stitcher.com/podcast/david-duncan/synthaholics?refid=stpr