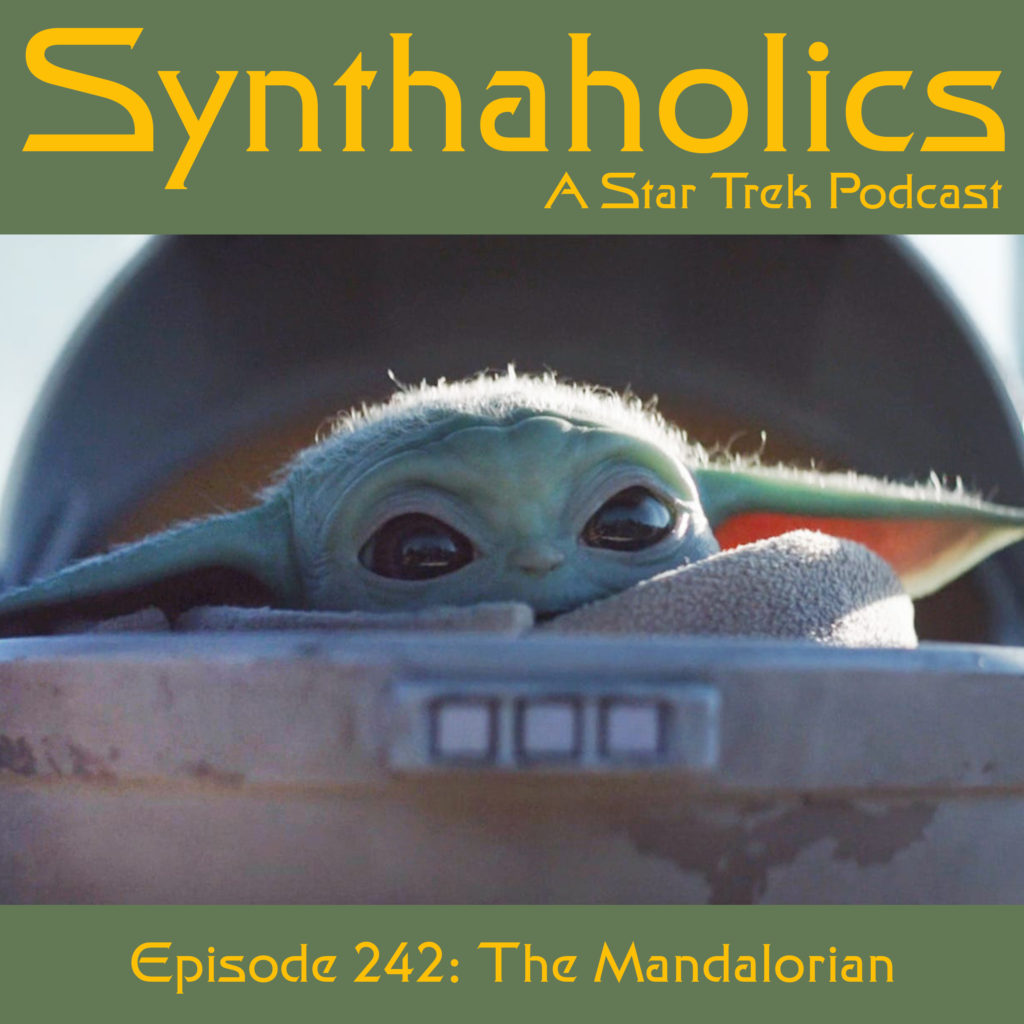 Episode 242: The Mandalorian Part 1 Featuring Robbie Palmer
This week we take a side ally turn into Star Wars to discuss the first three Episodes of the Disney+ show The Mandalorian. Aaron and David are joined by a friend of the show and past guest Robbie Palmer of The Nerdynomicon to add his expertise to the topic. We start off giving our non spoiler reactions so you are safe for the first few minutes if you have yet to see The Mandalorian. Please keep in mind after the first few minutes the show is full of spoilers for the first three episodes of the mandalorian. Be sure to spike that blue eggnog it's time for your weekly shot fo Science Fiction!

The Nerdynomicon YouTube Channel:
https://www.youtube.com/Nerdynomicon

Our music is provided by! http://warp11.com/
you can follow them at! https://twitter.com/warp11
If you would like to donate to us to help keep the show going please look at our Patreon
https://www.patreon.com/Synthaholics?ty=h
If you are a fan of Guy Davis and his art and comics you can support him at his Patreon
https://www.patreon.com/GSDavisArt?ty=h
Take a look at Holly's Website and blog
https://hollymichellev.wixsite.com/voiceover
Join the Facebook conversation!
https://www.facebook.com/groups/Synthaholics/
Email us
Subscribe to our YouTube Channel
https://www.youtube.com/synthaholics
Follow us on Twitter
Or Tumblr
http://synthaholics.tumblr.com/
Subscribe to us on iTunes
https://itunes.apple.com/us/podcast/synthaholics-star-trek-podcast/id981239466?mt=2
Subscribe to us on Google Play
https://play.google.com/music/listen?u=0#/ps/Immzfeujybtpjrz54khq3luqj3m
Subscribe to us on iHeartRadio
https://www.iheart.com/show/263-synthaholics-a-star/
Or subscribe to us on Stitcher Radio
http://www.stitcher.com/podcast/david-duncan/synthaholics?refid=stpr