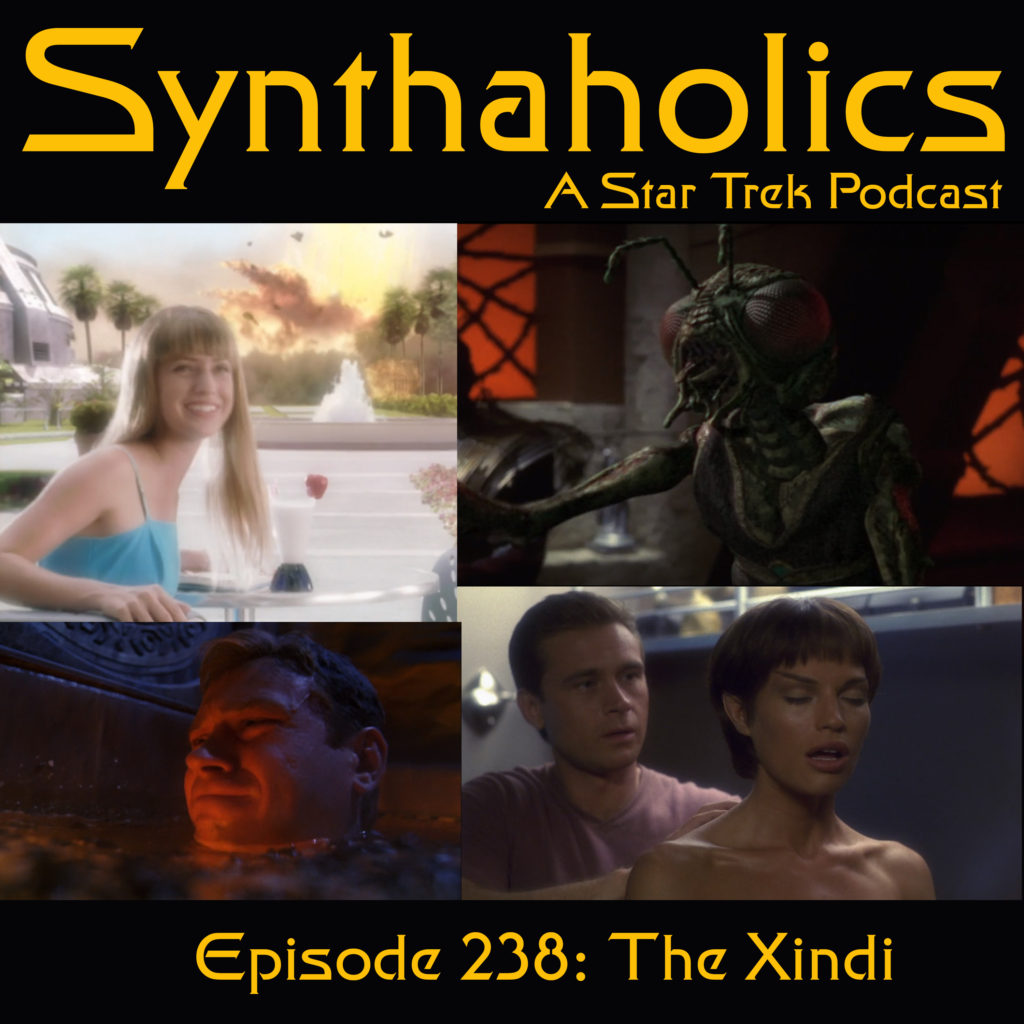 Episode 238: The Xindi
Aaron and David dive back into Enterprise to discuss the Xindai after almost a year since our last Enterprise discussion. The Xindi is the first episode of Season 3 of Enterprise the beginning the love it or hate it Xindi story arc. This episode is brought to you by Sigmund Freud and the gift that keeps on giving diabetes, just kidding we have no sponsors. But what we do have is a pretty sexy episode of Enterprise after our heroes wade through at least 31 kinds of alien waste. Make a pit stop at Baskin-Robbins and the liquor store it's time for your weekly shot of Star Trek.
Our music is provided by! http://warp11.com/
you can follow them at! https://twitter.com/warp11
If you would like to donate to us to help keep the show going please look at our Patreon
https://www.patreon.com/Synthaholics?ty=h
If you are a fan of Guy Davis and his art and comics you can support him at his Patreon
https://www.patreon.com/GSDavisArt?ty=h
Take a look at Holly's Website and blog
https://hollymichellev.wixsite.com/voiceover
Join the Facebook conversation!
https://www.facebook.com/groups/Synthaholics/
Email us
Subscribe to our YouTube Channel
https://www.youtube.com/synthaholics
Follow us on Twitter
Or Tumblr
http://synthaholics.tumblr.com/
Subscribe to us on iTunes
https://itunes.apple.com/us/podcast/synthaholics-star-trek-podcast/id981239466?mt=2
Subscribe to us on Google Play
https://play.google.com/music/listen?u=0#/ps/Immzfeujybtpjrz54khq3luqj3m
Subscribe to us on iHeartRadio
https://www.iheart.com/show/263-synthaholics-a-star/
Or subscribe to us on Stitcher Radio
http://www.stitcher.com/podcast/david-duncan/synthaholics?refid=stpr