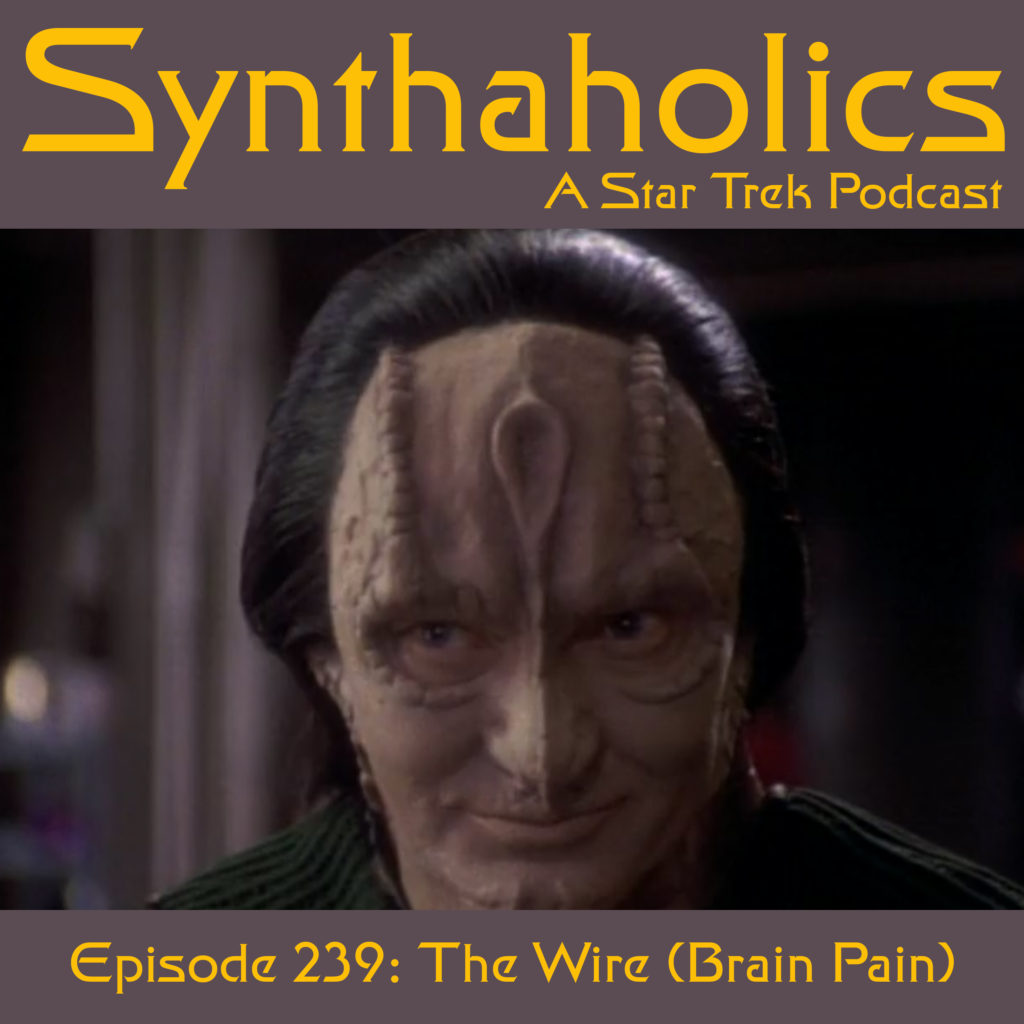 Episode 240: The Wire (Brain Pain)

All the Synthaholics are together this week to talk about headaches or Brain Pain, with the Deep Space Nine season 2 episode The Wire. While going to lunch Garak experiences Brain Pain and his hopefully boyfriend Bashir will stop at nothing to help cure Garak of his Brain Pain. This is a heavy Bashir and Garak episode but it is such a great episode it's hard to believe it is part of season two of DS9. Will we ever learn the truth about Garak, Is Garak just Smeagol in space, and will Bashir ever find love? Give this episode a listen and see if any of our answers make any sense. We hope you enjoy your weekly shot of Star Trek!

Our music is provided by! http://warp11.com/
you can follow them at! https://twitter.com/warp11
If you would like to donate to us to help keep the show going please look at our Patreon
https://www.patreon.com/Synthaholics?ty=h
If you are a fan of Guy Davis and his art and comics you can support him at his Patreon
https://www.patreon.com/GSDavisArt?ty=h
Take a look at Holly's Website and blog
https://hollymichellev.wixsite.com/voiceover
Join the Facebook conversation!
https://www.facebook.com/groups/Synthaholics/
Email us
Subscribe to our YouTube Channel
https://www.youtube.com/synthaholics
Follow us on Twitter
Or Tumblr
http://synthaholics.tumblr.com/
Subscribe to us on iTunes
https://itunes.apple.com/us/podcast/synthaholics-star-trek-podcast/id981239466?mt=2
Subscribe to us on Google Play
https://play.google.com/music/listen?u=0#/ps/Immzfeujybtpjrz54khq3luqj3m
Subscribe to us on iHeartRadio
https://www.iheart.com/show/263-synthaholics-a-star/
Or subscribe to us on Stitcher Radio
http://www.stitcher.com/podcast/david-duncan/synthaholics?refid=stpr